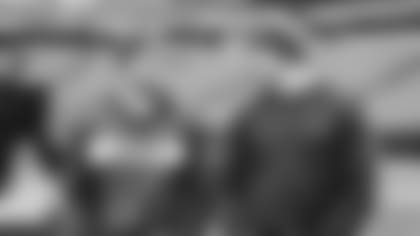 Throughout the season, NewYorkJets.com reporters Eric Allen, Ethan Greenberg,Olivia Landis and Randy Lange will each give their predictions to a series of questions regarding this year's Jets.
Today's question: What do you expect from Sam Darnold-Josh Allen Round 2?
EA: A glimpse into what the future holds.
No matter what happens Sunday between the Jets and the Bills, both teams believe they have found their answer at the most important position in football. They are very different players who have the ability to be game-changers for a long time.
In Darnold, the Jets have the more accurate thrower of the football. He can deliver it from multiple arm angles and he doesn't need his feet set to unleash ropes to all portions of the field. The second-year signal-caller continues to show improvement climbing the pocket while keeping his eyes down the field. He is a no-nonsense California kid, just looking to let his play do the talking. The Bills will counter with a very good defense, so Darnold has to make use of the talented skill weapons players around him including Le'Veon Bell and Jamison Crowder. Sometimes the 2-yard toss to Bell is going to be a better decision than the 35-yard rip to a receiver into a tight window. Adam Gase wants to stay out of third-and-long against Sean McDermott, but he is well aware that his young passer can still succeed when chaos surrounds him.
In Allen, the Bills have probably one of the strongest-arm passers we've ever seen. He has a rocket launcher and the Jets have to make sure the ball doesn't go over their heads. The Wyoming product, selected four spots behind Darnold in the 2018 NFL Draft, is the larger man at 6'5", 238 pounds and he has sneaky speed. He is a country kid who is just as competitive as Darnold, but he is more apt to banter with defenders on the field. The Jets have talked all week about maintaining rush integrity and making sure they don't allow him lanes to take off. The book on Allen so far has been keep him in the pocket, take away the vertical ball and force him to beat you underneath. But the Bills — much like the Jets — added valuable pieces around their guy in the offseason with some prudent free-agent signings featuring the likes of burner John Brown, slot wideout Cole Beasley and ageless wonder Frank Gore.
Both Darnold and Allen were victimized by turnovers at times in Year 1. They can get into trouble when they try to do too much. These defenses are going to pose problems as the Bills have been together for a while and corner Tre'Davious White and middle 'backer Tremaine Edmunds are budding stars. The Jets have Pro Bowl players at all levels with DL Leonard Williams, Mike 'backer C.J. Mosley and S Jamal Adams. Gase has a number of toys at his disposal and he is one of the league's most innovative playcallers. The Bills will try to take some heat off Allen's shoulders by using their backfield committee of Gore, rookie Devin Singletary and third-down back T.J. Yeldon behind a revamped offensive line, but it's going to be awfully difficult to run against the Green & White.
Darnold and Allen figure to be cornerstone pieces of their respective franchises for a long time, but I think Darnold goes to 2-0 over his buddy. The Jets are home and they'll force Allen into a couple of mistakes. The Bills quarterback is going to make some big-time plays along the way, but Darnold will make more.
EG: I'm expecting a close ballgame. As Adam Gase said earlier this week, Week 1 across the NFL is unpredictable with teams trying to establish their identities and in some cases, preparing for an opponent without a ton of film. Even though the Bills are familiar with Gase from his days as head coach of the Dolphins, the Jets have a new offensive cast that includes Le'Veon Bell, Jamison Crowder and Ty Montgomery among others.
In terms of Darnold-Allen, I think Darnold will pick up where he left off last season and throughout the summer. In the preseason, despite a limited workload, the USC product completed 68% of his passes while throwing for 211 yards and two touchdowns. The second-year signal-caller is poised to take a Year 2 leap similar to recent quarterbacks such as Philadelphia's Carson Wentz, Los Angeles' Jared Goff and Houston's Deshaun Watson, but the real test starts Sunday against live bullets and the NFL's top passing defense in 2018. As far as Allen is concerned, the Jets defense is fully aware of the threat his wheels propose. Last season in Buffalo, he ran for 101 yards and a touchdown on nine carries. I also expect to see a better command of the offense from the 6'5", 237-pounder as this is his second year in the same system with some new weapons around him including Cole Beasley and John Brown.
OL: For the Darnold-Allen matchup part two, I am expecting to see a much more evolved contest. Last season, both rookie quarterbacks were starters for the majority of the year, with Darnold being named the Week 1 starter for the Jets and Allen taking over for the Bills in Week 2. Both passers experienced ups and downs in their first runs as pros, but after returning from a foot injury that kept him out for three games, Darnold lit it up against the Bills and pulled out a 27-23 road victory.
Now that the two young QBs are in their second seasons, I believe we will see more patience, quick decision-making, and an overall better grasp of the speed of the game from both. In a recent news conference, Darnold joked about the friendship he and Allen share and the competitions they had with one another in the offseason. Darnold noted that Allen beat in the distance department, saying "he could throw it 100 yards," but followed up by saying "some of the accuracy throws I've got him in." I think we may see more of those qualities come into play Sunday.
RL: For Darnold-Allen II, I'd expect to see as competitive a battle as we had for Darnold-Allen I last December at Buffalo. That game was Darnold's return to action from his foot sprain and he orchestrated his first pro fourth-quarter comeback and first game-winning drive in that game in pulling out the 27-23 road win. Allen was not that accurate in that game (18-for-36, 2 INTs) and ran nine times for 101 yards, becoming the only opposing QB besides New England's Steve Grogan in 1976 to rush for 100 yards vs. the Jets. I expect more balance in Allen's game this time, based on numbers — he had 7.5 passes per run this summer, compared to 3.9 passes per run in his rookie season — and football logic — neither Allen nor HC Sean McDermott nor OC Brian Daboll wants to see their QB run that much, even if the QB does average 7.1 yards/carry. As for Darnold, I think we'll see a continuation of his 2018 final quarter and 2019 preseason: 60-65% accuracy and fewer mistakes as he probes the Bills' vaunted pass defense to find his exciting set of receivers, new and old. And what I do not expect to see is something similar to last year's first Jets-Bills meeting, which was not Darnold vs. Allen but Josh McCown vs. Matt Barkley at MetLife, a Buffalo stampede. I see a close, high-scoring affair with Darnold & Co. coming out on top, 30-24.