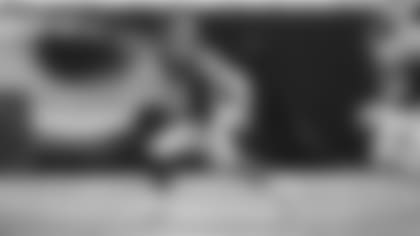 Throughout the season, NewYorkJets.com reporters Eric Allen, Ethan Greenberg and Randy Lange will each give their predictions to a series of questions regarding this year's Jets.
Today's question: What do you expect from rookie QBs Zach Wilson and Mac Jones in Week 2?
EA: I expect both Zach Wilson and Mac Jones to play well. Neither rookie flinched last week in their pro debuts. It's been well-documented how many times Wilson was sacked (6) and hit (10) at Carolina, but Jones was hit 9 times against the Dolphins. Wilson got better as the game progressed, completing 14 of 21 in the second half for 174 yards with 2 TDs. He used his athleticism to make plays and his fearlessness to beat pressure in got-to-have it moments on back-to-back completions to Braxton Berrios and Denzel Mims. Corey Davis is his go-to guy (5-97-2TD), but it's only a matter of time before rookie Elijah Moore gets a chunk gainer(s) ,plus veterans Jamison Crowder and Keelan Cole are set to return. Dolphins QB Tua Tagovailoa wasn't great against the Patriots, but he had some success with RPOs and found some holes in coverage down the field. The Jets will collectively be better in protection after correcting mistakes this week. The Pats have a solid run game and they moved the ball against the 'Fins, converting a whopping 68.8% on third down despite Jones facing 23 pressures. He still completed 74% of his passes and received a lot of praise, but the Jets are going to go after him. Wilson or Jones will grab his first NFL victory and I think it will come down to explosive plays and turnovers. The athletic Wilson has big-play pop and it's going to be interesting to see if the Pats can get anything over the top on an aggressive defense.
EG: I expect both QBs to play well. Mac Jones threw for more yards than Zach Wilson in Week 1 -- 281 to 258 -- but Wilson threw for more TDs (2 to 1). Both QBs put up gaudy numbers in 2020 in college— they combined for 8,192 passing yards, 73 TDs and 7 INTs. Wilson, the No. 2 overall pick in April, is more of an improviser than Jones, the No. 15 overall pick, so I expect Wilson to be able to accomplish a little more if the pocket breaks down and he needs to scramble, which we saw at Carolina. Jones, though, is a smart player despite doing most of his damage from the pocket. According to Next Gen Stats, Jones was 24 of 29 for 181 yards and 1 TD on passes fewer than 10 air yards. Wilson pushed the ball downfield at times, such as his 22-yard TD pass to Corey Davis. Wilson ran 28.6 yards before launching a pass that had 40 air yards, according to Next Gen Stats. Wilson also tried to connect with fellow rookie Elijah Moore on a 60-yard pass, but Moore couldn't come down with the catch. In short, I expect Jones to do most of his damage in the pocket with shorter passes, similar to a former Patriots QB now playing in Florida. Not to say Wilson can't, but his forté is improvising and turning those plays into chunk gains like we saw in the preseason against Green Bay and in Week 1. I also expect both QBs to lean on their run games early on. The Pats ran for 125 yards against the Dolphins last Sunday (RB Damien Harris had 23 attempts for 100 yards) and even though the Jets didn't have similar success on the ground, OC Mike LaFleur's offense is predicated on a ground attack.
RL: From Wilson I expect continued growth. An amazing thing about the Z-man (based on a limited body of work, no doubt) is how quickly he sheds a blah outing and gets up to speed. He had a shaky Green & White practice, then looked extremely sharp vs. backup defenses in the first two preseason games. In the regular-season opener, he looked like a rook in his first pro game — until, from six minutes left in the third quarter to the end, he completed 13 of 17 for 177 yards and both touchdowns to Corey Davis, to the tune of a 148.4 passer rating. Against the Patriots, 60 minutes of similar accuracy spreading the ball to the Jets' skill positions and no turnovers would be great. From Jones, I'd prefer to see more of his rookie side, as he showed on his first dropback as a Patriot when instead of a pass he fumbled backward awkwardly, with the Pats recovering. But considering that he proceeded to complete 29 of 39 for 281 yards, a TD, no turnovers and no more sacks for 102.6 rating in his pro debut, I expect that he'll be as cool, calm and collected as Wilson will be.