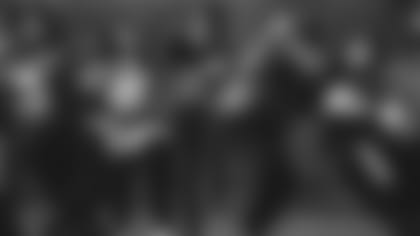 Throughout the offseason, NewYorkJets.com reporters Eric Allen, Ethan Greenberg, Randy Lange, Caroline Hendershot and John Pullano will each give their predictions to a series of questions regarding this year's Jets.
Today's question: What do you expect from QB Mike White Sunday vs. the Bears?
EA: In four appearances last season, White connected on 67% of his passes. He was lights out against the Bengals in that first start with 405 yards and then struggled in his last start against the Bills with 4 INTs. In that 34-31 upset win over Cinci, Michael Carter and Ty Johnson were targeted 20 times and combined for 14 catches and 166 yards plus Elijah Moore had 6 grabs for 67 yards. When White is on, he's decisive, the ball comes out quick and that allows playmakers to get yards after the catch. I think the Jets offense will get back on track Sunday for several reasons. WR Corey Davis and G Nate Herbig will return to the lineup, the Bears traded away two of their best players in DE Robert Quinn and LB Roquan Smith and rank 29th against the run, 31st on third down and 31st in sacks. The Jets should find success on the ground and White will be ready for his opportunity. I expect a W.
EG: I expect Mike White to come in and execute the offense well. In three games last season, White completed 66.7% of his passes and threw for 953 yards, 5 touchdowns and 3 interceptions. White completed 82.2% of his passes in his first NFL start (against the Bengals), becoming the second player in league history to throw for at least 400 yards in his NFL debut (Cam Newton in 2011). In his next game against the Colts, he completed 7 of his 11 pass attempts (including 1 TD) before exiting the game because he lost feeling in his throwing arm. His worst performance came in his final game action, throwing for 251 yards, 0 TDs and 4 picks against Bills, who had the NFL's best defense and No. 1 pass defense. This year's team has more talent than last season when he played. Similar to what he did against Cincinnati, if he can take what the defense gives him, whether that's a checkdown or a shot down the field, he'll put the Jets in a good position to win Sunday.
RL: I'll second OC Mike LaFleur's view that "all our quarterbacks are capable." White showed himself to be quite capable in a small window of opportunity last season. His passing lines and drive stats were good to excellent against three middle-of-the-road pass defenses in New England, Cincinnati and Indianapolis. His toughest game was against the toughest pass defense in Buffalo. Chicago is 28th in net yards allowed/pass play, 26th in sack rate and 31st on third downs. They can pick a just-out-of-the-box starter like White, so I could see him throwing an INT (he had 8 in 4 games last year). But if he gets protection, I can also see him completing 65-70% of his passes, hitting some 20-30-yard passes to his WRs and TEs, averaging 6.0 plays and 30.0 yards per drive, staying away from sacks and putting some points on the board (he also had 8 TD drives last season). Kind of what he did in his first pro start vs. the Bengals. And which, if everything else works out as planned, will be a key to a healing victory over the Bears.
CH: I expect Mike White to make the simple plays against the Bears this Sunday. White hasn't played in a regular season game yet this year, but you could see flashes of what he was capable of last season. White is going up against a Bears defense that ranks 31st in sacks, 31st in third-down, tied for 26th in the red zone and 29th in rush defense. If White can limit mistakes or turnovers and make the layups, he should be able to move the Jets downfield consistently. Coming off four straight losses, three of which have been within a field goal or less, the Bears will be hungry.
JP: I expect Mike White to push the ball down the field and lean on the running game against a Bears run defense that ranks No. 29 in the NFL. In three starts last season, White threw for 751 yards and 4 touchdowns. He averaged 7.5 yards per attempt and against Indianapolis and 8.93 against Cincinnati. In the Jets' first 10 games, Joe Flacco and Zach Wilson combined to average just 6.3 yards per attempt. I also expect Elijah Moore to see more targets. Moore has 18 receptions for 220 yards this season and was one of White's favorite targets last year. Moore registered 14 receptions for 156 yards and 2 touchdowns when White was under center in his three starts. On the ground, the Bears run defense ranks 30th in yards (1,569), 31st in first downs allowed (93) and tied for last in touchdowns surrendered (18). Last time the Jets played at MetLife Stadium, they ran a season-high 34 times for 174 yards (5.1 avg) and beat the Bills 20-17 in Week 9.