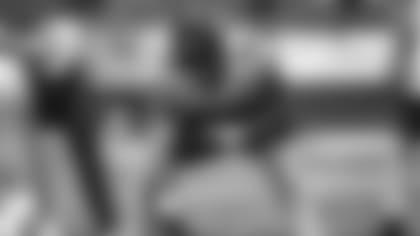 Throughout the offseason, NewYorkJets.com reporters Eric Allen, Ethan Greenberg and Randy Lange will each give their predictions to a series of questions regarding this year's Jets.
Today's question: What do you expect from the Jets in free agency?
EA: On a recent episode of The Official Jets Podcast, Jets Pro Personnel Director Greg Nejmeh said: "I think in free agency you want to be aggressive, but you want to be disciplined, too. You don't want to just be signing guys, you want to build a team. And that's something Joe [Douglas] and Robert [Saleh] talk about all the time. We want to build a team that's composed of guys with the traits we want. It's not fantasy football where you can go and sign all kinds of different players. You have to be disciplined and strategic about it." Nejmeh also praised Douglas' patience and poise. There are different tiers in free agency, the Jets have multiple needs and they'll be ready when opportunity — and value meet. The Jets have money to take a couple of sizable cuts, but you don't win solely with 500-foot home runs from veterans. You win with quality prospects who grow up within your system. The Douglas approach will be calculating -- drafting and developing players will continue to be this organization's lifeblood. I'm curious to see if the Jets bring in multiple players who are familiar with and have excelled in the Shanahan offensive attack that will be coordinated by Mike LaFleur and defenders who thrived either under Saleh in San Francisco or Jeff Ulbrich in Atlanta.
EG: I expect them to be active although I'm not expecting GM Joe Douglas to go shopping in the highest tier even though the Jets are projected to have the second-most cap space in the NFL. Could Douglas surprise me? Absolutely. He told the media last week that he'll be aggressive when opportunity meets value. He added that while the team is in a better financial situation than last offseason, his philosophy of building through the draft and supplementing the roster through free agency is the same. The Jets have holes to fill and a lot of draft capital and money to spend. This roster will look different at the start of May and it wouldn't surprise me if Douglas & Co. made a lot of moves in the second wave, signing players who won't necessarily break the bank, but who fit the profile both on and off the field. While most perceived needs include EDGE, OL, WR and CB, the Jets need RBs who fit the outside zone run scheme, LBs who can cover in a 4-3 defense, a No. 2 QB and depth at the safety spot. A busy couple of months lie ahead for Douglas and his staff.
RL: Playing off of a couple of Jets free agency opinions offered up by NFL Network reporters on newyorkjets.com — Ian Rapoport figuring that GM Joe Douglas will have a wait-and-see approach on Day 1 of free agency and Tom Pelissero forecasting "a lot of new players" coming to town — I see Jets free agency being busy. They won't be signing blockbuster deals with uber free agents, however, but rather more cost-conscious packages with a good-sized group of "middle-class" players who can help new HC Robert Saleh and his staff get the Jets' new schemes and culture under way this offseason. This meshes well with Joe D's recently repeated philosophy of building through the draft. Now if a big-name wideout or edge rusher whom the Jets coveted, but didn't think would become available pops free, that would be rich icing on the free agency cake.