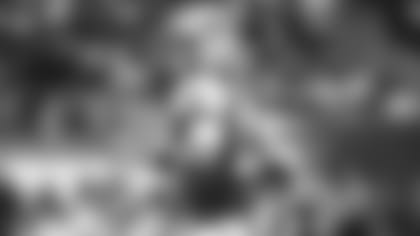 With 8:41 remaining in the first half of the Jets' preseason opener against the Atlanta Falcons, rookie quarterback Sam Darnold — the No. 3 overall selection in April's draft — took the field and made his NFL debut. And as the lights shined bright at MetLife Stadium, Darnold looked the part of a Broadway veteran on opening night.
"It's his first preseason game. He looked comfortable," head coach Todd Bowles said. "He was excited going out, he had a smile on his face the whole time, so I think he enjoyed it."
Darnold came out hot, hitting eight of his first nine passes and finishing the half 9-of-11 for 74 yards with one touchdown. The USC product led the Green & White on a scoring drive in the final moments of the second quarter, connecting with wide receiver Charles Johnson from 14 yards out. His first professional scoring pass put the home team up 17-0 with 46 seconds remaining left in the half.
"It was fun man. It felt good to finally play football again," Darnold said. "We've been playing for a few weeks now, but it felt good to hit someone else and actually be hit as quarterback. No red jersey, so it was awesome to be able to get back there. I got hit once, but I let the ball go. It was just awesome to feel that rush of playing football again and also in front of the fans. It was amazing."
He actually had two touchdowns to Johnson although the first one was called back. On third-and-goal from the 4, Darnold looked left and quickly came back firing to Johnson. Points were taken off the board though when the veterans wideout was flagged for offensive pass interference, but that only delayed the inevitable.
On third-and-14, Darnold showed off his athletic ability and intelligence in multiple ways. Stepping up in the pocket to avoid pressure, Darnold rolled right and displayed his awareness by not crossing the line of scrimmage before delivering a strike to Johnson in the front right of the pylon. Often been touted for his resiliency, Darnold proved the scouting report right while leading a 10-play, 64-yard drive in hurry-up mode.
"Just his composure, I've never seen him in a wide-eyed moment," said veteran Jermain Kearse of Bridgewater during an in-game interview with CBS 2's Otis Livingston. "He's just always so poised and composed and he's just eager to learn every day. Every day, I've seen some progression in his game and he's so eager to learn from the older guys in his room. If he continues to do that, he'll be heading in the right direction."
Darnold is an instinctive player, who moved well in the pocket Friday night and often bought time to find the open receiver with his feet as well as his eyes. But what impressed Bowles the most was Darnold's demeanor.
"Poise in the pocket, obviously the touchdown throw on the scramble," Bowles said regarding what he liked about the rookie's performance. "It was very good use of his feet and accuracy, but he does that in practice all the time, so I can't say it impressed me because I've seen it every day. Just him handling game-to-game situations, but there's things he can get better at too. But it's a good start for him."