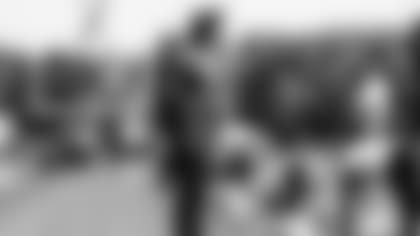 Jets head coach Todd Bowles held his second news conference of the OTA period and Jets reporters asked him about how a number of players are looking the past few weeks. Here are Bowles' quick takes on 10 of those players:​​
On how rookie QB Sam Darnold has been looking...​
"He's been progressing. Obviously we're installing the offense and putting everything in on defense so he's seeing things for the first time on both sides of the ball. But as the days go by, he's getting more comfortable, so he's just got to keep working at it and getting better."​
On QB Teddy Bridgewater's continuing progress...
"Teddy has shown no signs of weakness with the knee. He's moving around, taking every rep, every snap like everybody else. So he's progressing, getting better. He's a tough guy. He feels good, he looks good, he's moving around good."
On how S Jamal Adams is progressing in year 2 and with a changed diet and a private chef...
"Physically, he's always been in great shape. Right now he's been running around like he was last year. But from a mental standpoint, his eyes are better, he's focusing on the little things. So from that standpoint, I see him getting better. ... As far as not letting his eyes roam, if his eyes stay focused, he'll be fine."
On what he's seen from WR Robby Anderson these practices...
"I think from a mental standpoint as far as presnap reads and understanding the game better, which he is doing, becoming more of a complete receiver and not just a speed guy and taking the next step, and understanding what's happening to him and how guys are attacking to him. And he's been working on that all offseason."
On WR Quincy Enunwa's ongoing efforts to return to action after a year away...
"Right now, we're cautious. He doesn't have a helmet on right now, but he's running around, he's catching the ball, he's running his routes fine. ... When he gets to camp, his health is most important. We're excited to have him back once he gets back and he excited to be back. So we'll see when the pads go on."
On what Bowles liked about RB Isaiah Crowell...
"We like his toughness, we like the way he can slash through and cut. He's a tough runner. We think he's a pound-it back as well as having some versatile lateral movement that can play out on the edge a little bit. And we thought he'd be a great younger-legged type of [Matt] Forté utility guy coming in, maybe not the receiver Forté is to a certain degree, but running the ball, we thought he would help in the backfield from a toughness standpoint."
On what the Jets saw in DL Henry Anderson to trade for him with the Colts on day 3 of the draft...
"We needed another guy at the time. We wanted a veteran guy on the inside to help out at least in the four-down packages and not just rely on a rookie. We figured he was better than most guys we would've taken with that pick, so we went ahead and made the trade."
On what he's seen this offseason in LB Lorenzo Mauldin...
"He's running around in shorts and T-shirt. There's not much more you can ask for right now. But he's understanding the defense better, and the biggest thing is he's healthy. We just hope he keeps progressing forward."
On second-year TE Jordan Leggett's participation in OTAs...
"He's been good. I mess with him all the time. He catches a bunch of touchdowns in shorts and T-shirt, which is great, but when the pads come on, he just has to stay healthy. It's good to see him running around healthy. It'll be great for him to get in training camp as well."
On not much being known about WR Devin Smith, who's had two season-ending knee injuries...
"That's what makes him a big unknown. There's not that much you can show when you're injured. Obviously, he's had some serious injuries. That's not his fault, sometimes things like that happen. Until he gets back out on the field, it's going to be unknown. First and foremost, he has to get healthy, and then we'll judge him if he can get on the field. ... He's doing everything he can to get back so we'll see."