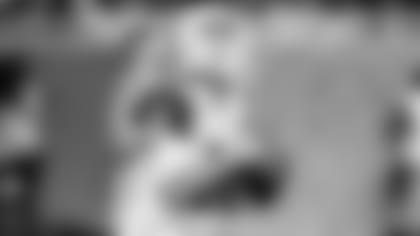 Stories regarding Jets quarterback Sam Darnold's poise and resiliency date back to his time at Sam Clemente High School. And after throwing a pick-six on his first pass attempt in the NFL, the Jets' rookie quarterback completed 16 of his next 20 passes (80%) and threw for two touchdowns in the Green & White's 48-17 blowout of the Lions.
"It's great to see it. It's rare more nowadays," head coach Todd Bowles said of the signal caller's mettle. "It was a little more common back then for whatever reason, but it's a little more rare than when I've been around. And it's exciting to see because he's got an old soul, but he's young in age. He understands the game very well and he works at it the right way."
The Manimal
Linebacker Darron Lee may have earned some more R-E-S-P-E-C-T in Detroit as he broke out, notching his first two career picks and scoring his first professional touchdown, which came on an interception return. He also tied the team lead with seven tackles (Buster Skrine).
"The game slowed down for him," Bowles said. "I don't think he's doing anything that he hasn't done. He's got more knowledge of the game and the film study is easier, He's working his tail off to be the best player he can be and we're happy with it."
Status Quo
Since the Jets reported for spring workouts, they set the bar high for 2018. Monday night was a great way to start the year, but it was just one chapter in a 17-week season and the team is ready to turn the page and prepare for the home opener against the Dolphins.
"Our expectations were like that before the game," Bowles said. "It doesn't change (anything), we had high expectations for ourselves to begin with. That game changes nothing for us because it was one game. We have 15 more to go. We're going to try and win those different ways. Obviously every week won't be the same, but our expectations have not changed."
Jetcetera
Bowles said S Doug Middleton, who filled in for the injured Marcus Maye (foot), did a good job and played with a lot of confidence and communicated well with the defense. … Bowles said "we'll see how this week goes" in regard to Maye's potential return to the field. … WR Jermaine Kearse was a game-time decision Monday night, but Bowles elected to sit him. It's too early to tell if Kearse will be available to play Sunday. … The Jets will make their decision in the next day or so whether to keep or let go of LB Kevin Pierre-Louis, who is returning from a one-game suspension. Because of the suspension, Pierre-Louis did not count against the final 53-man roster at the end of the preseason.