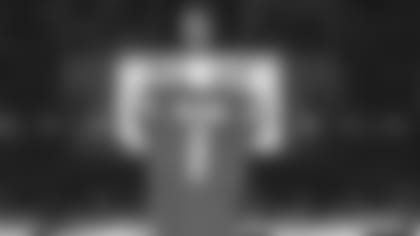 Instead of a post-draft grades, Dane Brugler of The Athletic ranked his favorite NFL drafts from 1-32 and the Jets came in at No. 1.
General manager Joe Douglas drafted seven players including three in the first round in Cincinnati CB Ahmad "Sauce" Gardner (No. 4 overall), Ohio State WR Garrett Wilson (No. 10 overall) and Florida State pass rusher Jermaine Johnson (No. 26 overall). Douglas then selected Iowa State RB Breece Hall in the second round and Ohio State TE Jeremy Ruckert in the third before wrapping up his third draft with a pair of fourth-round picks -- Louisiana OL Max Mitchell and Texas A&M DL Micheal Clemons.
"The Jets made seven picks in this year's draft, and I think they nailed each one, making it tough to narrow down my favorite pick from the class," Brugler wrote. "But I have to go with my top wide receiver and the new Wilson-to-Wilson connection for the Jets.
"The top priority for the Jets this offseason was to add an offensive playmaker at receiver, and Wilson makes the playbook come alive. He plays much bigger than he looks with elite body control and catch point skills, while also creating space before and after the catch."
Wilson averaged 15.4 yards per reception in three seasons for the Buckeyes. He had 70 receptions, 1,058 yards and 12 TDs in 2021, earning first-team All-American honors. He was one of six FBS pass catchers to average more than 95.0 receiving yards and 1.0 touchdowns per game. Wilson finished his collegiate career with 143 catches, 2,213 yards and 23 TDs.
"He's another speed guy," HC Robert Saleh said after the first night of the draft. "He's got the whole repertoire in terms of the route tree. You see him and he looks a little slight, but he's actually very strong. He plays the game very strong, he's got great range, he's got really good speed. So, he's another guy that he can win one-on-one, which, obviously, when you look at Buffalo, New England, Miami, they're man-to-man coverage teams and being able to add him to Corey [Davis] and Braxton [Berrios] and Elijah Moore and the rest of the receiver core, along with our tight ends and our backs too, with Michael [Carter] and Tevin [Coleman] and Ty Johnson, it's a group that is really ascending and a very young group that has a chance to grow together."
For each team, Brugler picks a "Day 3 pick who could surprise" and he chose Clemons for the Green & White.
"The Jets only picked twice on Day 3, but they landed a pair of quality players," he wrote. "At 263 pounds with near 35-inch arms, Clemons looks like he is straight out of central casting, using his forward lean and strike power to create leverage points and rush opportunities. There are some similarities to John Franklin-Myers, who was also a fourth-round pick."
Douglas entered the drafted with nine draft picks including a pair of first and second rounders. The Jets came out with seven players -- four on offense and three on defense.
"I feel like we're a better team now than we were going into the weekend," Douglas said. "I feel like we're a better team now than we were to start the entire offseason. Again, a lot of that credit goes to Coach and his staff and Rex (Hogan) and all of our personnel staff working together. Just a real team effort to give us this chance to go into a season and improve in some different spots, adding quality depth to the team, adding some guys that we feel can be explosive, dynamic playmakers for us."