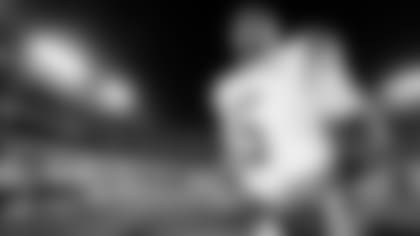 The Jets may have lost Thursday night, but Teddy Bridgewater is continuing to win. Taking over for rookie Sam Darnold at the start of the second half, Bridgewater led two fourth-quarter scoring drives in the Green & White's 15-13 loss to the Washington Redskins.
Bridgewater completed 10 of 15 passes for 127 yards with a touchdown as the Green & White rallied at FedExField. He shook off a pair of sacks and an interception, helping the Jets gain a late lead that was relinquished on the final play of the evening.
"Ah, man, it was a ton of fun," Bridgewater said. "Unfortunately, we didn't come away with the victory, but there's a lot of positive things you take away from a game like today." 
A seven-play, 71-yard drive got the visitors back into striking distance. Bridgewater's 16-yard touchdown to Charone Peake was a thing of beauty with the rangy Peake climbing the ladder in order to reel in the ball in the end zone. On the play before, the 25-year-old Bridgewater evaded pressure and connected with Peake for a 13-yard gain that put the Green & White inside the red zone.
"We were presented with different situations, opportunities, and I think we did a good job of capitalizing, he said ."And that's the NFL. We make plays, they make plays also. But it felt good being out there running around with the guys and just having fun."
Trailing 12-10, Bridgewater took over and got the Jets back on the move. He came through on a third-and-8, getting 9 yards on a completion to veteran wideout Charles Johnson. He had a 4-yard scramble and another third-down conversion, picking up 17 on a pass to ArDarius Stewart. Unfortunately, the Jets couldn't punch it in on the ground from the 1 and had to settle for a Taylor Bertolet field goal from 21 yards out. The one-point lead with 1:52 remaining would last until Dustin Hopkins hit the game-winning FG as time expired.
"It's great to see that you have guys who'll fight. Everyone says, 'Aw, preseason games don't count.' To us, they're keeping score. We're trying to win," Bridgewater said. 
Bridgewater's passing numbers could have been better than they were. He threw a nice ball to Chad Hansen down the seam with a pair of defenders nearby, but the second-year wideout couldn't corral the pass. The next drive, Bridgewater ripped a ball towards the sideline just past TE Eric Tomlinson's outstretched hands.
However, Bridgewater heated up and eventually got his club into position to win the game.
"It's all about opportunity and trying to capitalize every moment I'm presented with an opportunity, said Bridgewater, who was happy to take a couple of more hits Thursday. "I think we're doing a good job putting together scoring drives, but me being a perfectionist, I want to score every drive."