Stephen Hill swears he's not assuming he's got a starting wideout job this season, that "Every year is a critical year — every day is a critical day."
Yet after the first practice of this week's three-day mandatory minicamp, there does seem to be an optimism about No. 84, a spring in the step of the young man who came to the Jets in the 2012 draft with a 39.5" vertical, an 11'1" broad jump and a 4.36 40.
"Oh, yeah, definitely, that's my biggest focus," he told me about trying to get ready for a big year, both individually and teamwise. "I just come in with that mindset of trying to make the team every single day."
A few things may be helping put him in the frame of mind that he's had during this OTA/minicamp period, when by all reports he's been catching the ball well.
For one thing, he's lockering in the Atlantic Health Jets Training Center next to one of the guys who has been delivering the ball to him.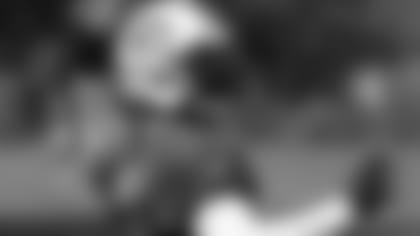 "I was at home when I found out the news. People started calling me: 'You went out and got Michael Vick.' I was like, dang, that's cool," Hill said. "I had his jersey, his shoes. Anything you name that was his, I probably had it."
And never mind that Vick's ball "spins backwards," because, naturally, the QB is left-handed.
Another element as Stephen climbs this next hill was that before and especially after the new arrivals from free agency and the draft came to town, he was feeling a little more mature, like a go-to veteran.
"Guys are pulling me aside now. They're trying to figure out what you've got to run on this, who we should do that," he said. "In a way that feels pretty good."
But at the top of the menu of reasons for his improvement, Hill points to his knee, and that's a good thing.
"I already got it fixed. Everything is right," he said, referring not to surgery but to intensive stretching and weight-training to strengthen all the muscles around the joint. "The only thing I did, really, was squatting. I didn't squat in a year and a half to two years because of the knee issue. Once I started squatting this offseason, my legs just got stronger."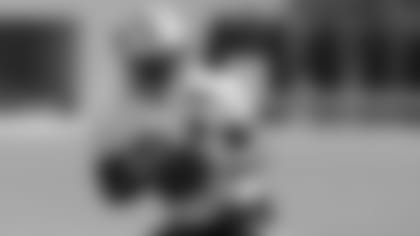 That's a good thing, because Hill's had any number of physical issues small and large. He's been on our injury list 21 weeks the past two years combined with knee, concussion, foot, calf, hamstring and ankle injuries. That's limited him to just 45 catches in 23 games those two Jets seasons, both of which ended with him on IR.
Everyone's got his fingers crossed for Hill this year. You can tell head coach Rex Ryan would like his wideout to break through, for obvious reasons, yet isn't handing out any jobs in June.
"Stephen's got more experience, and that's going to help, obviously," Ryan said. "I think he feels healthy and that's a positive. He knows there's nothing given, nothing's assured about any guys' roles right now. He knows the competition's on him. I think the competition's on everybody."
Hill said those two years "didn't go as I planned, of course. I planned to do even more than what I did." But he knows his knees have been complicit in his Jets start. And he's letting all the naysaying roll off his back right now — except his own.
"I've got to go out there and run the routes, catch the ball, things like that," he said. "It's all on me."