The Jets have been in the process of refurbishing their linebacker corps. At OLB, Calvin Pace is gone, with rookie Jordan Jenkins and young vet Mike Catapano vying to replace him. Lorenzo Mauldin has moved in on the other side, bumping Sheldon Richardson back to fulltime on the D-line. Inside, Demario Davis departed, with Erin Henderson and first-round pick Darron Lee stepping in.
The only remaining starter is old reliable David Harris. And with his shoulder bruise, Harris may be forced to sit out the opener against the Bengals, which would mean four new starters across the LB board compared to last year's opener against the Browns.
Changes are in the works behind the front line as well, which is where Julian Stanford comes in. The third-year man had an outstanding second half on the inside and on special teams against the Giants on Saturday. Let's start with his last big play, a goal-line-stand-ending end zone pass breakup with 3:33 left.
"On that drive, the quarterback knew we were playing a lot of man, so they were running a lot of man-beaters," Stanford said, adding that on fourth down, "I knew it was going to be man-to-man so I knew he was going to try to beat us. He looked at the tight end, he stared him down, so I just broke on the ball.
"That's one of the best feelings," he said of his jarring breakup of Ryan Nassib's short toss to rookie TE Jerrell Adams. "I was more excited about just having the goal line-stand stopping them, though. I wasn't sure what was going to happen next."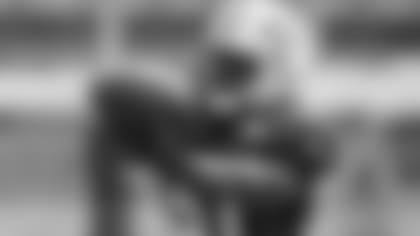 What followed was Christian Hackenberg's deflected interception and Nassib's quick return to the red zone, where he hit Tavarres King for the go-ahead TD pass to make it 21-20.
Still, Stanford's breakup was the crowning touch to a nice night. It began with his inside-the-20 tackle on the second-half kickoff. Then he had the tackle on the third-and-10 pass that was originally ruled a first down but upon head coach Todd Bowles' successful replay challenge was reversed to fourth-and-a-foot. He added an assisted tackle on a no-gain completion. Then he blitzed and hit Nassib as he was unloading a long ball. He had three tackles on the drive that ended with his PD.
Stanford, who played his high school ball in Connecticut and his college ball at Wagner on Staten Island, has made the rounds as a pro. He started with the Jaguars as a free agent in 2012 and moved on to the Lions and Buccaneers before coming to the Jets practice squad last December. He's got a veteran's perspective on the final roster cutdown to 53 that looms less than a week away.
"This is nothing new to me. I've been a journeyman. So at this point in my career, I know what it is, so I'm not really too high," he said. "I'm kind of just mellow and I go with the flow."
Then the Wagner Seahawk in him came out when he admitted, "Of course, this would be great for me to stay here."
Stanford will next flow on down I-95 to Thursday night's final preseason game against the Eagles as he and the rest of the Jets' twos and threes and fours will get one last preseason chance to stick around on the Green & White.