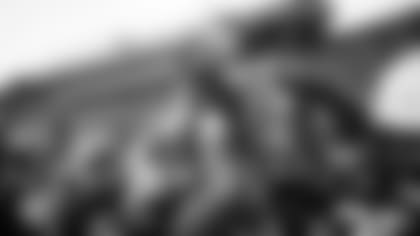 Midway through tonight's Green & White practice at Rutgers University's High Point Solutions Stadium, the Jets lined up with a special guest in the backfield with six minutes remaining in the second period.
Six-year-old Gio Toribio took a Josh McCown handoff from midfield, weaved his way through the Jets defense, burst past the outstretched hand of cornerback Morris Claiborne and punched it in for the score as the fans in attendance chanted his name.
It was a special moment for Gio, who was diagnosed with stage 3 anaplastic large cell lymphoma on Aug. 8, 2016 when he was 4 years old. For the next year, the Ossinning, NY, native went through weeklong chemotherapy treatments every three weeks. Despite the intense treatments, Gio's spirit was unaffected in large part because of the support he received from Jets cornerback Buster Skrine, safety Jamal Adams and linebacker Darron Lee.
Over time, Lee and Gio developed a close relationship.
"It meant everything to have him out there after all he's been through," Lee said following the practice. "He's the ultimate warrior in my eyes. Like I've told everybody before, he's my hero. Happy to have him out here with the guys...It was a blast tonight."
After a year of treatment, Gio was declared cancer-free. While he does have some restrictions, especially with sports, Gio is back doing what he loves most — playing ball.
"If they're so strong, then I can be strong, too," Gio said.