You should forgive the Jets DBs if they're riding high as we head toward these final two fateful games of the regular season. After all, they had one of their best outings of the year on Saturday night in Big D.
"I feel like it was one of our better games, definitely," CB Buster Skrine said after today's first practice of the week for New England on Sunday. "It just shows we're improving as the year's going on. Like Coach  Bowles says, we want to play our best ball this month, so that's what we've been doing."
Any number of measures tell how the Green & White secondary fared against the Cowboys:
■ Four interceptions were the Jets' most since getting four at home vs. Jacksonville in 2011 and most on the road since another four-pack, at the Patriots in 2000. They gave the Jets 28 takeaways, third-most in the NFL, and raised their turnover margin to plus-8, their best after 15 weeks since the 2004 edition's sterling plus-17.
■ The pickers were Darrelle Revis (fourth of the season, first since Game 5 vs. Washington), Marcus Gilchrist (third, also his first since Game 5), Calvin Pryor (second, first since Game 2 at Indy) and Marcus Williams (team-leading sixth, most since Revis' six in '09).
■ Gilchrist's was the Jets' league-leading 12th takeaway on third down. Pryor's was their seventh red zone takeaway, one off the team RZ record. Williams' was his third this year coming on the opponent's final play, joining his thefts in the wins over Jacksonville and Miami in London.
■ The Cowboys' 176 net passing yards enabled the Jets to lower their average to 240 yards allowed/game, which raises their pass defense ranking to an eighth-place tie, their highest this late in the season since 2010.
Missing from the names above is Skrine's, yet in many ways he got the Green & White pass defense rolling as Matt Cassel was chased from the game early in the second quarter.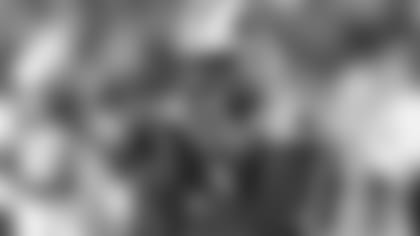 It began with Skrine's third-down pass defense on Terrance Williams at the goal line on Dallas' opening drive. The Cowboys stat crew didn't give Skrine a PD but super-slow-mo replay shows his gloved hand got the tiniest deflection on the ball, causing it to rattle through to Williams' facemask and then to the turf.
"I think I did touch it. It was bang-bang. I think I nicked it," Skrine said. "It threw him off a little bit."
No doubt so did Skrine stepping on Williams' cleat and unshoeing him before the pass arrived..
Next came a screen pass from Cassel to Darren McFadden that gained 30 yards — except that Skrine was in position to stop the play for a 5-yard gain until getting pushed from behind by guard Zach Martin. Bring it back.
On the next play, Skrine's read of a Cassel-to-Cole Beasley left screen caused Cassel to "pull the pass back," stumble, throw wildly to his right under heavy pressure from Leonard Williams, and intentionally ground the ball — except that the grounding was wiped out by Revis' interception.
"When Beasley got in the stack, I knew what they wanted to do. With the quarterback they had in, they always like shorter throws at first just to get him warmed up. So as soon as he got into that stack, I just broke on it," Skrine explained. "It's just film study."
The study of the Patriots shows the same old passing attack featuring Tom Brady and Rob Gronkowski, No. 2 in the NFL, but also a unit that has absorbed WR hits to Julian Edelman and Danny Amendola. Skrine expects them to be dangerous as always, and the Jets pass defense to be up to the task.
"It's great that we're at our peak and we've won four in a row," he said. "We know New England is a tough team. They've been a tough challenge for everybody. ... No extra pressure. We just know it's an important game. We're just going to do what we've been doing."