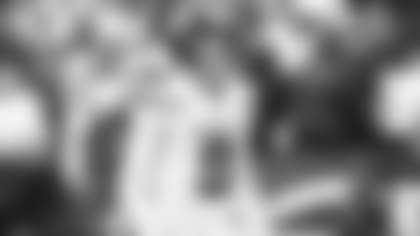 Nothing like getting a "normal" field goal, the Jets' first try under 40 yards all season, with just this little proviso: Miss it and you might open the door to a devastating Dallas comeback.
Sam "Icewater" Ficken didn't miss.
"Yeah, those are the critical moments when you've got to come through for your team," said Ficken with a dispassionate tone, as if he wasn't the kicker who had to make Jets fans forget about their previous kickers this year by pounding through the necessary 38-yarder with 3:24 left in the Jets' 24-22 conquest of the Cowboys on Sunday.
"It wasn't a super long kick — the ones you're expected to make," he continued, dropping his nominative pronouns as is his style. "Obviously happy to come through when the team was kind of in a critical moment, ended up being the difference.
"I didn't do anything crazy, just kind of did my job and obviously just excited to get a win."
Green & White fans probably forgot about the quiet, analytical excellence of kickers like Jay Feely, Nick Folk, Chandler Catanzaro I and Jason Myers over the last decade after what unfolded at the position this offseason, preseason and in the season opener. But while it took Ficken a while to get close enough to try a routine potential gamewinner, he was gold when he got the shot.
Ficken even said at the time that he didn't know he drove the ball down Broadway, with Broadway Joe Namath and other members of the Jets' All-Time Team watching along with everyone else in the MetLife Stadium stands.
"I think so," he said of his kick's down-the-middle path. "If it's good, it's good, I don't really care."
On top of going 1-for-1 on field goals and 3-for-3 on extra points, he boomed touchbacks on all five of his kickoffs (the first Jets kicker to be touchback-perfect on five-plus kickoffs since Folk vs. Baltimore in 2016). Along with his unrufflable demeanor, Ficken has a chance — right now he knows it's only a chance — to stabilize the position for more than a season at a time.
But first things first, and that means the Patriots on Monday night.
"It's just one week. Let's not get too excited," Ficken said. "But it's hard to win in this league. I think everyone's super happy with how we did, but it's on to the next one. We've obviously got a big game coming up."