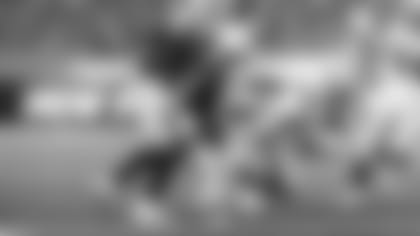 We haven't heard that Sam Darnold has made any appearances during his offseasons in any of the incarnations of the NBC and MTV reality game show Fear Factor. But if he had, he would've aced the course.
Take Darnold's pain threshold. Either his painostat is naturally set very high or the Jets QB refuses to acknowledge the fear of playing hurt.
"There's no lack of toughness, I know that much," head coach Adam Gase said of Darnold's third season of dealing with various nicks and knacks as he tries to advance his career and the Jets' profile. "Just watching him come back in that Denver game alone — he wasn't coming out of that game. So for him to come back in there and try to help us win that game and then coming back after that, it hasn't been easy.
"I know last year he didn't feel great all the time and battled through it. He's as tough as they come. If anybody questions his toughness, I'd be shocked, because players, coaches, anybody that watches him, other teams, they see that this guy, he isn't afraid."
The Darnold toughness angle came up because, after missing two games following getting his shoulder slammed into the MetLife Stadium turf vs. the Broncos and then two more games when the shoulder was jarred by the Chiefs, the QB was listed on this week's injury report with an ankle injury. But as Gase said, he thought the twist was from the Seahawks game and listing him is "more precautionary for us that we put him on there just in case something flares up."
But the Jets have something else to worry about flaring up on them and that's the Los Angeles Rams defense at SoFi Stadium on Sunday. The Rams have one-man wrecking crew Aaron Donald and shutdown corner Jalen Ramsey and a bunch of talent right below them. They have the NFL's No. 1 overall and passing yardage defense, which has conspired with the Jared Goff-led offense to produce the league's No. 1 yardage differential at plus-103.5 yards a game.
Something else to strike fear into the hearts of ordinary opponents. But as his coach said, Darnold may have healthy respect but he has no fear.
"Yeah, Aaron Donald is a good player. He definitely pops out on tape. Especially it seems like whenever a play needs to be made, he is always there making it," Darnold said. "So yeah, it will be fun playing against him.
Similarly about the Rams defense as a whole, the QB said:
"Their front is very disruptive, with their game, especially on third down, so we have to do a good job up there up front. And then the back end, they have really good players there, too, and they do a good of disguising coverages and mixing it up that way. So we've got our work cut out for us. But we're excited for the opportunity."
Darnold has betrayed no signs of hesitation or wavering when he's been asked multiple times about the Jets' winless record or his future with the team. He has said he wants to be "a Jet for life," adding "the decision isn't necessarily up to me, but that's how I feel."
In a similar vein, he betrayed no fear when asked after Thursday's practice at the Atlantic Health Training Center what he's looking to do in the last three games of this season. His answer was short and to the point.
"Yeah, just being consistent, moving the ball up and down the field, and scoring points," he said. Almost fearlessly, one might say.
See the Best Photos from Thursday's Practice During Week 15