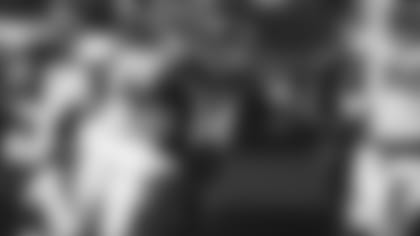 It wasn't pretty when Sam Darnold didn't see WR Lawrence Cager open on a cut and was forced to take a sack — as well as take a jolt to his right shoulder courtesy of Denver LB A.J. Johnson.
Darnold came up from the play with a small grimace, then stayed in for one more play in the Jets' Thursday Night Football game against the Broncos at MetLife Stadium. From there, with 59 seconds left in the first quarter, Darnold left the field for the blue sideline examination tent and, with CB Bless Austin already in the tent being examined for his injury, Darnold left for the locker room with his arm hanging at his side.
Jets fans, those who see great potential in No. 14 and even those who got a little impatient with his three interceptions at Indianapolis on Sunday, had to be concerned that the Green & White injury wave was continuing and had just claimed their starting QB.
Darnold was concerned, just a little.
Joe Flacco, cleared to dress for his first Jets game after rehabbing all offseason and preseason from neck surgery, came on to run the offense. For exactly four plays. But Darnold had returned to the sideline and had his helmet on, clearly champing at the bit to take the field again. And with 12:00 left in the first half, No. 14 returned.
"I've had something similar, so I wasn't too worried," he said after the Jets' fourth loss of the year, by 37-28, was complete. "Once they told me they felt like I could go out there again, that's when I started to get excited and obviously got back out there."
The 23-year-old third-year QB didn't light things up immediately, as he did on the game's opening drive when he zigged and zagged, scrambled and scooted 46 yards for a touchdown and a 7-0 lead — the Jets' first lead of their first four games.
What's more, the scramble was the longest rush by a Jets quarterback in franchise history and only the second run of 40-plus yards by a QB. The first was by the elusive Titans QB Al Dorow, who rolled 40 yards against the Dallas Texans at the Polo Grounds in 1961, almost 59 years ago.
But Darnold still moved the offense better than it had moved at any time in the first three games. He did produce a pair of almost identical 11-play, 55-yard drives to a pair of midrange second-quarter field goals by Sam Ficken. But that obviously didn't placate him, looking back on how the game developed.
In the second half, Darnold's shoulder didn't seem to bother him, but as has been the offense's problem this season, that unit had trouble converting red zone opportunities. The O moved the ball better than it had in the first three games, but drives of 55, 55, 46, 39 and 25 all ended with Ficken field goals and not TDs, and three of the five were red zone chances.
"It's not acceptable," the QB said, adding in response to another question, "We're leaving too many points on the field. Getting down there as much as we did and only one TD, that's not what you want. We need to be better in the red zone after we sustained drives to get down there."
Darnold still maneuvered the Green & White to their first second-half lead of the season at 28-27 on Ficken's final field goal, from 36 yards out with 6:23 to play. But Darnold's last two series totaled 24 yards on 11 plays with one first down and ended with two losses on downs. On those last two series combined, Darnold was 2-of-7 for 17 yards and was sacked twice.
Darnold was happy to get some bodies back. Chief among them was WR Jamison Crowder, who paired his seven catches for 104 yards with his 100-yard receiving game in the opener for his first back-to-back 100-yarders since 2016 with Washington. He also got WR Jeff Smith back off IR and Smith contributed seven catches for 81 yards. The offense also got its RT back in George Fant, but LT continues to be a sore spot as Chuma Edoga started for sore-shouldered rookie Mekhi Becton, then Becton entered early when Edoga was injured, then Becton left after aggravating his injury and Conor McDermott came on.
"Jamison made some incredible plays out there that we were lucky to have," Darnold said, adding of his rotating OL, "I think the guys stepped in and did a good job."
For the game, Darnold 23-of-42 for 230 yards, didn't throw a TD or a pick, but was sacked six times and came in with a 70.5 passer rating. But in this game, his rushing line also needs to be mentioned: Besides his record-long run by a Jets QB, he finished with six carries for 84 yards, with the game yardage also breaking a Dorow mark of 72 yards on 18 carries at Buffalo in 1960.
But the numbers and the historical distinctions and the one-point lead with six and change on the clock are good only for stat freaks.
"I mean, we've got to win games, man," he said tersely. "I guess, yeah, it's better than getting blown out, but we've got to win that game."
And before they get to try for a win over the visiting Cardinals a week from Sunday, Darnold still has to have his shoulder cleared.
"We'll take it day by day at this point," he said, "and see what they say tomorrow."