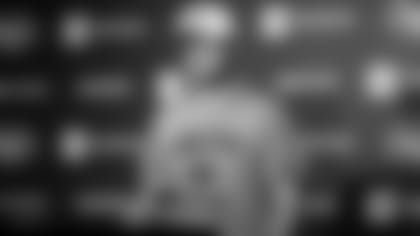 Sam Darnold isn't spending too much time asking, "Why me?" It's been more than a week since he was diagnosed with mono and Darnold has returned to the team's Atlantic Health Training Center accepting of his fate.
"You get the cards you get dealt," he told reporters Wednesday. "Right now it's just about trying to get healthy and getting back out there."
Still limited to taking mental reps, Darnold will not travel with the team this weekend when the Green & White head to Foxboro for a date with the Patriots. Instead the Jets will start their third quarterback in as many weeks when Luke Falk will make his first professional start.
"He's been in this offense longer than I have, so he knows the offense really well and he knows how to play the game," Darnold said of Falk, who was with Adam Gase last season in Miami. "Unless he really needs something from me, like I said from a backup quarterback standpoint, I'll help him out in terms of watching film or maybe charting some blitzes that they might have. Other than that, I'm sure Luke will be fine."
Despite an enlarged spleen, Darnold told reporters he is feeling better and is energy is up. He hopes Week 3 is the last game he'll miss in 2019 with the Jets targeting a possible return to the lineup in Philadelphia on Oct. 6.
"I have full confidence that I'll be ready for the Eagles game," he said. "I'm not going to promise anything because I don't know exactly where this mono thing is going, but that's the goal. That's the goal the doctors have set and that's the goal I've set the game to be back for."
In their two games to dates, the Jets have been limited to 11 offensive points. They averaged just 242.5 yards against the Bills and the Browns, but Darnold didn't feel right in Week 1. Despite connecting on 68.3 percent of his passes against Buffalo, he had a number of balls batted down at the line of scrimmage, was sacked four times and never appeared to find his comfort zone in the pocket.
"Hoping to come back stronger, stronger than I was. That first game I felt like I wasn't myself," he said. "I wasn't playing like myself. I felt a little more uncomfortable than I had been in the preseason and in training camp. Just looking to come back strong, come back knowing the offense just that much more and playing well."
While Darnold will miss at least one more game, the second-year signal-caller made a definitive statement about the results turning around in the not too distant future.
"As an offense, we have to play a lot better than we have been and we know that," he said. "But we will once we come back, or once I come back."