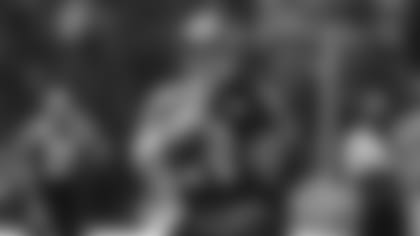 Excitement? What excitement? Sam Darnold only knows that he's too busy stacking wood every day, growing into a Year 2 NFL quarterback and steadily working to master head coach Adam Gase's offense during OTA practices at the Atlantic Health Jets Training Center.
"Yeah, it's tough whenever someone loses his job in any business. You understand and you feel for them," Darnold said after today's indoor practice about last week's noteworthy departure of general manager Mike Maccagnan. "But this business is tough, it's a hard deal, and that's just part of it. I'll forever be grateful for Mike and what he's done for me. Taking me third overall was a life-changing experience and I'll forever be grateful for that.
"But I think as a player I just go about like, hey, it is what it is," he added. "So for me it's just every single day is about attacking the day because as we know, today is never going to be the same as the day you had yesterday."
Even with the novelty of a new offense, new teammates and a new head coach, Darnold said starting his second year as a pro, he's a lot more comfortable as the Jets' signal-caller.
"It's been really fun to be able to learn a new offense and kind of understand what Coach Gase wants to do, how aggressive he wants to be," Darnold said. "But we're making sure we take a step back and realize it's not going to be perfect day one or day two or day three. This week it was definitely a process. That's the word I would use to describe it and it's going to be throughout OTAs and this little minicamp. But we understand that as an offense. We've just got to be able to stack good days on top of good days and see what happens."
"It's a process" was also one of the mantras that Chad Pennington employed in his playing days. Pennington was the Jets' 18th overall pick in the 2000 draft, didn't get to play until his third year but then took off with outstanding play in the playoff seasons of '02, '04 and '06. Darnold was asked if he can follow, if not exactly in Chad's footsteps, in the current model of Jared Goff, Carson Wentz, Mitch Trubisky and high NFL picks blossoming in their second pro seasons.
"I hope so. It'd be nice," Darnold said. "The expectations are always to produce and score points. So if that happens, awesome. And we don't plan on it being any other way."