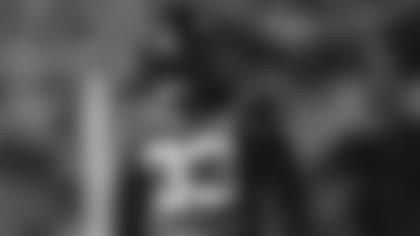 For the normally loquacious Jamal Adams, his weekly chat with reporters after today's practice was a pensive time. The Jets safety thoughtfully touched on the Patriots, the Jaguars and two running backs that are of his acquaintance.
"Yeah, it was tough, obviously," Adams said of the 33-0 MNF loss to New England. "It's not what we wanted. But at the end of the day, man, that's what makes the league so special, that you have another opportunity the next week. All we can do is put our head down and keep working.
"We're 1-5, we get it. But there's plenty of teams that have come out of the drought and made the postseason or whatever it is. We're not focused on that right now. We're focused on Jacksonville."
That means some of Adams' focus will have to be on doing what he can to counteract the effect of his former LSU teammate from 2014-16, RB Leonard Fournette, who leads the NFL with 144 carries, is second with 715 rushing yards, and is packing 5.0 yards/carry and 102 yards/game averages.
"I think I know him pretty well," Adams said. "He wants to run the ball, he wants the ball in his hands. He's been doing a phenomenal job. He's been running the ball extremely hard like he always does, he's healthy, he's in shape, so we're looking forward to going against him.
"I went against him last year but he was hurt, he left early," Adams said of last season's 31-12 Game 4 loss, also in J-ville. "So just to compete against him, I know what to expect, he knows what to expect of me, and it's going to be fun, a lot of fun."
We could say that's similar to the impact Le'Veon Bell has had on teams in the past and is trying to have on the Jets in 2019. Adams expressed "so much respect for how he carries himself."
"I didn't know Le'Veon, right? I met him in the offseason when he did sign. All I knew was that he was a rapper I would see on social media," Adams said with a smile at Bell's "other life" in the music business. "But Le'Veon is more than a rapper. Le'Veon's a good person, and he really means well. He's a great teammate, he holds guys accountable, he's a leader to the younger guys.
"He's been to, what, a couple of Pro Bowls, on winning teams. He's a humble guy and all he wants to do is win."
Same as Adams, who displayed the football player's mentality of keeping an even keel and putting past games behind in order to play the next one at your absolute best.
"Things like that happen," he gave one more passing reference to Monday past, "but we've got to find a way. That's the main thing is finding a way and bouncing back from those type of things. ... We're going to bounce back. We're not going to focus on the past and what happened. Win, lose or draw, we're focused on Jacksonville, and we're looking forward to the opportunity."
See Top Photos from the Practice Field Leading Up to the Trip to Jacksonville