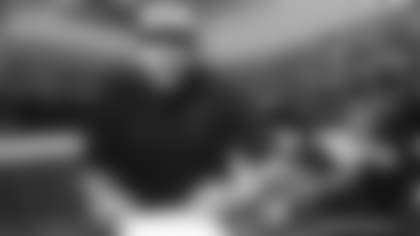 The Jets have signed tight end Trevon Wesco, their fourth-round selection (No. 121 overall) in April's NFL Draft.
Wesco started out at a junior college before transferring to West Virginia where the 6'3", 267-pounder saw little action in three seasons with the Mountaineers until last year. He earned first-team All-Big 12 honors as he made 10 starts and caught 26 passes for 366 yards and one touchdown. Wesco finished his WVU career with 28 catches for 373 yards and two scores in 36 games.
"We were quite intrigued with him when we saw him at the Senior Bowl," Jets general manager Mike Maccagnan said. "We actually had a personal workout with him with our position coach, spent some time with him, brought him in for a visit. We think he has a skillset to eventually be a [starter], and what we term as a Y tight end, which is an on-the-line-of-scrimmage blocking tight end, but he also has the ability to be an effective receiver."
West Virginia didn't incorporate the tight end a lot in its offense, which predominantly limited Wesco to blocking roles, both in-line and at fullback. According to Wesco, his biggest strength is his versatility and while he's still somewhat raw as a pass catcher, he did a good job when his number was called through the air.
"I think I dropped only two balls out of the 28 that I caught. I've always caught the ball," he said. "Since I was younger, I've always had the ball in my hand — playing quarterback and I played wide receiver when I was younger in high school. I'm really comfortable with that and I don't feel like I have a problem with that."