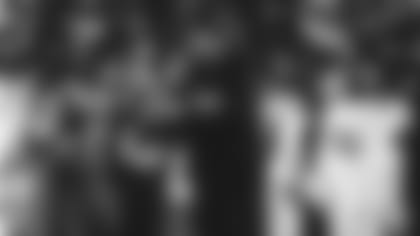 Jets head coach Robert Saleh wasn't happy with the way the Jets ended this season in Buffalo, but he also had an upbeat message for his team, his staff and Green & White fans that overrode the disappointment of the decisive 27-10 loss to the Bills.
"It's really been a roller-coaster, and it's been really cool working with this group, laying this foundation," Saleh told reporters in the visitors' interview room at Highmark Stadium in Orchard Park, NY. "It hasn't gone as smooth as you dream of when you get your first opportunity, in regard to wins and going to the playoffs. But there were a lot of things I think were done well, a lot of players have opened our eyes. There are a lot of things we have to do to close the gap in our division, but I'm blessed in every way."
Still, Saleh had to tackle questions about the split personality that his 4-13 Jets displayed in the winds of Western New York today.
On one hand, they showed incredible fight, especially for the defense that held the Bills to three points over a span of nine midgame possessions to enable the Jets to take a 13-10 deficit into the fourth quarter.
On the other hand, the Jets were held to a franchise lows of 53 yards and four first downs and converted one of 14 third downs.
"Obviously they have one of the best defenses in football," Saleh said. "We just could not run the football very well. It was just tough sledding. Their front was dominant when we had to win and separate and do all that stuff. We've got a long way to go if we want to close the gap with Buffalo — and New England and Miami, for that matter."
Zach Wilson's evaluation was equally difficult. In this game, working behind a porous group of blockers and throwing to third- and fourth-team wide receivers due to injuries, Wilson could generate just 5 yards of net passing offense once his eight sacks by the voracious Bills defense were folded into the yardage total.
Again Saleh took the big-picture view.
"Zach's development over the course of the year is spot-on. The things we wanted him to get better at, he's gotten better at," said the first-year head coach. "A couple of plays today, he was showing his progression, showing that the things he's been doing haven't been fluky. Being able to run the ball would've alleviated a lot of pressure, but when you're sitting second-and-11, third-and-11, that's tough sledding for anybody. We obviously ran into a bit of a buzzsaw with this Buffalo defense."
Similarly, he said the Green & White defense "played their absolute butts off. I know if you look at the stats it didn't look that way. We just couldn't get anything going on offense to give them a break."
Saleh was not quite ready to give a detailed assessment of the offseason, which includes two of the first 10 picks and four of the top 40 in the late-April 2022 NFL Draft and the salary cap space to bring in unrestricted free agents for next season. But he knew enough to know he likes the landscape ahead.
"At the end of the day, it's about winning, period," he said, admitting that the Jets' final record stung. "Winning four games in this league is not good enough. But at the same time, we all knew this was going to be a roller-coaster of a season with the youth movement. We had ups and downs. We had some close games. We beat two division winners, we had a Super Bowl champion on the ropes, we were within a score for a long time today.
"So I think the progress this young group has made, while a four-win season is not good enough, was very encouraging to go into next season with the goal of playing meaningful games into December."
See Best Images from the Final Game of the 2021 Season in Buffalo