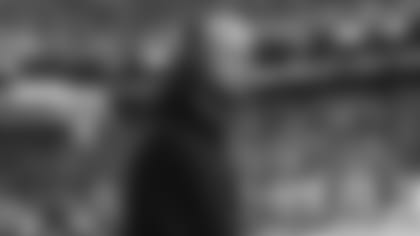 One voice that fans hadn't heard from regarding the Jets' veteran quarterback quest in general and Derek Carr in particular belonged to Robert Saleh.
But the Jets head coach chimed in Thursday morning in an online videoconference with reporters. And although he said, a little raspily, that "I'm just pulling myself off the mat" due to an illness that kept him from flying out to Indianapolis for a meeting with Carr at the NFL Combine, he was very clear-eyed and complimentary in his early scouting report of the free agent QB who played his first nine seasons with the Raiders.
"Derek's got an elite makeup with regards to football IQ," Saleh said. "He's got tremendous accuracy and arm strength. He can put the ball anywhere you want. He's underrated in terms of a scrambler, being able to move out of the pocket and all that stuff.
"He's been asked to do a lot in his career. He's more in line with what [Matt] Stafford's career has been in terms of if you can just get him to a place that can surround him with all the pieces and allow him to just quarterback, it'd be pretty cool. He's a solid young man."
Saleh couldn't bring any direct observations from the QB's reported second meeting with the Jets at the Combine on Wednesday, due to that stomach bug, but he also was impressed with Carr's off-field demeanor during the sides' first sitdown at One Jets Drive.
"I thought it was great," Saleh said of the visit two weekends ago. "He's a tremendous young man. He's a father of four. His mind's in the right spot. He understands, he keeps the main thing the main thing. He's an impressive young man, for sure."
Now it's patience time for Saleh, general manager Joe Douglas and their staffs. They're able to meet Carr, mention his name in news conferences, and even sign him if they want since he's a free agent. But their process also includes speaking with other vet QBs who don't become available unless they're traded or until March 15 when the NFL's unrestricted free agency signing period begins.
But Saleh is OK with biding his time and letting this timeline unfold.
"As a coach, you always want it done yesterday, right?" he said. "We appreciate everyone's process, we appreciate how everyone's going about it, we appreciate the time everyone needs. So it's just being deliberate in our process, making sure we're taking care of our stuff but also being mindful and respectful of other people, too."
And Saleh and his coaching staff, which features several new hires, have plenty to work on in the meantime.
"Right now we're studying our guys, we're going through free agency, we're looking at the draft, so there's a lot of overlap with regards to what we doing in our day-to-day process," he said. "This morning we're going over some offensive scheme, then in the afternoon it'll be defensive scheme. While we're doing offense, the defense is working on free agency and the draft, and vice versa. So it's just trying to divvy up the time and make sure we're going through our normal process day in and day out. I guess you get used to it after all that time."