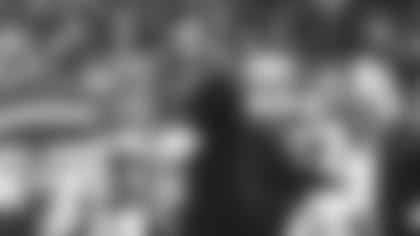 Youth has been the rip current below the surface of the Jets' activities all offseason and preseason. And after more additions and subtractions to the 53-man roster today, youth rose up and took control of first-year head coach Robert Saleh's first news conference with reporters less than a day after final cuts were announced.
"We're probably going to have eight rookies starting or being major, major contributors on this team — nine, if you include the kicker," Saleh told reporters as he surveyed his new and evolving roster. "Challenge accepted, in terms of this coaching staff is excited to get their hands on them, and you're going to see tremendous growth as the year goes on."
But Saleh has stated all summer that steps forward are accompanied by steps backward, and one area that continues to remain very much a work-in-progress is the cornerback position, especially after the coach acknowledged that one of the most experienced corners in the room, third-year man Bless Austin, has been released.
"I'm very appreciative toward Bless. He's a good young man," Saleh said. "With the youth that we have at corner and with the competition they've all been able to provide and the growth they've all been able to have since OTAs and training camp, we're going to give those guys a run and give them an opportunity to compete over this last week and a half and roll with those guys."
Another reason for the Austin transaction was the makeup of the roster at other positions.
"If you look at the initial roster, it had eight corners. Normally you don't keep eight corners, which meant there were deficiencies elsewhere," Saleh said. "When we were looking at it, those young guys, they have such tremendous value and there's so much growth that they can all experience. They all have the potential to be high-end starters in this league. It all comes back to being a numbers game."
With the departure of Austin, who started 16 games at RCB in 2019 and '20 combined, Saleh was asked who was at the head of the pack for the starting role on the outside opposite second-year LCB Bryce Hall.
"To be determined," he said. "You can talk about all four of 'em."
By all four, Saleh was referring to three rookies in draft choices Brandin Echols and Jason Pinnock and undrafted free agent Isaiah Dunn and second-year man Javelin Guidry.
As to how soon the Jets would want to name that starter, Saleh said, "We're good waiting till the last minute. We kind of have an idea where it's going to go, but at that corner spot, it's about confidence, being in rhythm, so we're just giving those guys the chance to compete."
That competition can thus go on the rest of this week and all next week before Saleh and the Jets begin their regular season at Carolina on Sept. 12.
Another position where youth will be served is at QB, with rookie Zach Wilson and third-year man Mike White the only two signal-callers on the roster after NFL "sophomore" James Morgan and well-traveled veteran Josh Johnson were released Tuesday.
"We talk about things you've got control over," Saleh said of the current two-man depth chart. "What we've got control over is we can coach our tails off with Zach and Mike. We have all the faith in them to execute at a high level when called on. Mike is deserving of that No. 2 spot. I operate in a world of faith and I trust good things are going to happen."
Johnson was back at practice Wednesday and is expected to be part of the team's practice squad.
Saleh deferred to general manager Joe Douglas on the situation at tight end with the Jets trading Chris Herndon to Minnesota and releasing veterans Ryan Griffin and Dan Brown, leaving Tyler Kroft and Trevon Wesco as the only TEs on board after final cuts.
"Obviously, you see the puzzle pieces," the coach said of the position. "There's going to be tight ends brought in. Joe is working through all that stuff. An opportunity presented itself [in the Herndon trade] and Joe was quick to take advantage of it."
Regarding whether the Jets feel the urgency to produce for their followers, Saleh replied of the fan base's input, "It's appreciated, obviously. We embrace the urgency at which everybody wants to win. But at the same time, that can't affect your decision-making for the long haul of the goal of winning championships for extended periods of time.
"Always with rookies and a youn team, there's going to be growth because there's going to be so many 'aha' moments. But what you'll see is a group of young men that will play their absolute tails off. They'll run, they'll hit and they'll be excited to play this game."