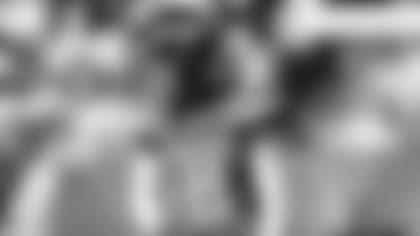 Robby Anderson is eager to test the market in free agency after his fourth season in green and white making "a lot of strides, a lot of growth" as a No. 1 wideout in the NFL.
Remaining with the Jets, he said today in the Jets' locker room following their season-finale triumph at Buffalo, would be ideal. But, he said:
"From a business perspective, why wouldn't I go out there and see what my value truly could be and do things in the correct business manner. So that really wouldn't be logical. ... I think the goal is and the business perspective is to get the most money in the best situation."
Anderson didn't have a monster 2019 season but he did do many things that will influence the Jets and other teams to consider signing him for a monster year ahead. He finished with 52 receptions for 779 yards at 15.0 yards/catch and five touchdowns. His 92-yard touchdown catch-and-run was the second-longest scrimmage play in the NFL this season.
Some other No. 11 numbers: While Jamison Crowder edged Anderson out for the team leads in receptions, yards and TDs, Anderson held a 13-12 edge over Crowder in most 20-yards-plus receptions, and now has 50 catches of 20-plus for his career. Thirty-five of his 52 catches went for first downs and a career-high 11 of them converted third downs. And he drew seven penalties on opponents (four pass interferences, three holds) for a team-high 97 yards marked off.
"I think I opened a lot of people's eyes to things they probably thought I couldn't do, for some reason," he said.
Anderson did much of his damage in the last seven games, when he had a pair of back-to-back seven-catch, 100-yards-plus games and made four of his scoring grabs. He said that had a lot to do with he and QB Sam Darnold getting on the same page.
"I just think it was more opportunity and capitalizing. I started getting into a little bit of a zone. Sam was comfortable, I was comfortable, things were clicking," Anderson said. "Earlier in the year, when Sam went down and there were O-line issues, it was harder for him. But I think as things got how they need to be, he was able to use me in the ways he hoped to."
"Robby has been great for me these past couple of years," Darnold said today, adding about how important it would be to get him signed this offseason, "That's out of my control. We'll figure it out when everything gets settled."
Anderson won't be settled until the next few months are in the books and he signs with the Jets or another team. As he said about this time ahead:
"It's very exciting, you know? I kind of feel like the world's in my hands."
Top Images of the Jets Packing Up Following the 2019 Season