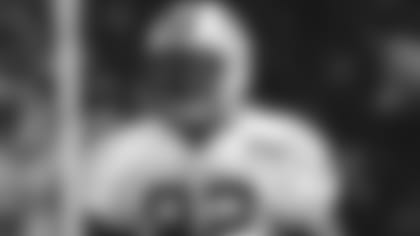 The "moving parts" that Jets head coach Todd Bowles has been shifting around due to a recent rash of injuries has brought a new piece into his offensive puzzle with the signing of veteran free agent WR Rishard Matthews.
"I'm happy to be here," said Matthews, the 6'0", 217-pound wideout who took a four-week hiatus from his seventh NFL season after he asked for and received his release from the Tennessee Titans on Sept. 27. "I'm just trying to learn as much as I can so I can contribute right away."
QB Sam Darnold said he knew about Matthews by reputation and welcomes him to the mix.
"We can kind of fit him in everywhere," Darnold said today. "So far just in the first days, he's learning the offense like crazy. So we're able to put him in different spots and he's a pretty versatile player, so it's really good whenever you've got someone like that on your side of the ball."
Matthews has a respectable pro résumé with 228 receptions for 3,147 yards (13.8 yards/catch) and 21 touchdowns. He originally was a seventh-round pick out of Nevada by Miami and had seven catches for 95 yards in five career meetings against the Jets from 2012-15.
With Tennessee, he had his two most productive seasons as a pro with 118 catches for 1,740 yards and 13 TDs in 2016-17 combined, with the yardage and TDs topping all Titans receivers in that span. But the Titans have struggled this year offensively and Matthews, who missed offseason and training camp time reportedly with Achilles and knee injuries, followed up an Instagram post with a text to atozsportsnashville.com that he was "barely getting any playing time" and "it was time to move on."
Matthews told Jets media after his first practice with the team today he's aware that playing time and production is uncertain with his new team, even with Quincy Enunwa (ankle) still sidelined and Terrelle Pryor (groin) released, as he learns a new playbook and tries to get on the same page with Darnold, coordinator Jeremy Bates and head coach Todd Bowles.
"We'll see how much he can learn," Bowles said of a possible role in Sunday's game against the Bears at Soldier Field. "I've only seen him for one day. We'll see how much he can learn and apply and we'll go from there."
"I fully understand the position I'm in. I put myself in this position," Matthews said. "I played special teams to make it in this league. I don't mind doing that, I don't mind taking taking reps off the guys throughout the week so they can be fresh for the game. Whatever I've got to do to get the trust and contribute, I'm all for it."
He admitted it can be "a little tough" making his pro debut with a new team in a hostile road environment but added that he has played at Soldier Field before. In fact, In November 2016 he even contributed three receptions for 64 yards and a 29-yard scoring grab from Marcus Mariota in Tennessee's 27-21 win at Chicago.
Matthews said his Titans days are "in my past now. It is what it is. That situation happened. I wish nothing but the best for those guys. I still talk to a couple of those guys.
"But now I'm a New York Jet and I'm looking forward to playing Chicago and hopefully us coming out with a W."