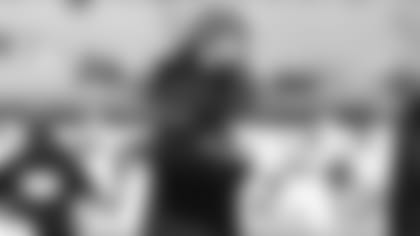 The week leading up to this past Saturday's Reese's Senior Bowl offered several Jets assistant coaches a rare and novel opportunity to step to the forefront -- out of the shadow of HC Robert Saleh, OC Mike LaFleur and DC Jeff Ulbrich -- as they took command of the victorious National team.
Tight ends coach Ron Middleton took the reins as head coach, quarterbacks coach Rob Calabrese was the offensive coordinator and linebackers coach Mike Rutenberg stepped up as the defensive coordinator. Several of the Green & White's other assistants (Leon Washington, Jake Moreland, Mack Brown, Nate Ollie et. al.) embraced bigger roles as the coaching staff changed roles, got to run their respective position rooms while also enhancing the cohesiveness and depth of the staff.
"You always try to put yourself in that seat as a young coach," Calabrese, 31, said in a "2-Minute Drill" chat with senior team reporter Eric Allen. "You try to master the system, take the scheme to the next level, what I've been learning from Coach LaFleur this past season and made the transition this week. That's how I take it, the mindset is it's an opportunity to call plays and watch them unfold. I'm always ready to see myself in that light."
The event's organizers for this year's game tweaked the format, as it applies to the coaches of the two all-star teams (the staff of the Detroit Lions handled the American team), and mandated that the head coaches (Saleh and Dan Campbell) serve only in advisory roles. The idea was to delegate responsibilities and enable assistants, who often toil in the background, to show that they, too, have potential, teaching skills and the right stuff to perhaps lead men in the NFL.
So while the Senior Bowl is one of the first offseason showcases of college players vying for a job in the NFL, the week of practices and off-the-field interactions was also a showcase of sorts for assistants interested in moving up the coaching ladder at some point in their careers. For now, however, they're all a part of Saleh's smart and aggressive staff.
"It's been awesome," Rutenberg, 40, said. "I'm super appreciative of Robert and Brick [Ulbrich] and the Senior Bowl. It's humbling, I've learned a lot from this first-time experience. We've worked really hard, but it's been fun."
Before Saturday's game, he added: "I'm fired up any time I have an opportunity to do something I haven't done before. I really appreciate it. We got together as a staff and put our heads together."
It's no secret that the teams that send their coaching staffs to Mobile, AL, for the game benefit by getting an early look at more than 100 college players, weeks before the NFL Scouting Combine (at Indianapolis, March 1-7), free agency (which begins on March 15), various college pro days and -- of course -- the NFL Draft (at Las Vegas, April 28-30). That's especially true for the Jets, a team that has four picks among the top 38 selections (two each in first and second rounds) and nine picks overall.
"It's huge," said Rutenberg, who first connected with Saleh when they were assistants in Jacksonville in 2014. "I think we did an awesome job last year and feel like we hit it last year. To have as many picks as we do, I hope we nail it again in the draft."
While the draft is still several months away, the opportunity to not only run the Senior Bowl players through a round of practices and see how they react on the field, perhaps as important are the interactions in meeting rooms and in more casual settings. It's another piece of the puzzle looking toward building a roster ahead of the 2022 NFL season.
"The biggest benefit is being able to spend so much time with the players," said Jets' offensive line coach/run game coordinator John Benton, 58, who worked the Senior Bowl game with Saleh and the 49ers in 2019. "They [the players] may come in prepared, but there's too much time for them to keep their guard up. We get to learn their personalities and it works both ways. We see things where guys shine through and guys who have a flaw here and there.
"We're trying to push limits with how much you tell them and what they retain. We're throwing a lot at them in a short period of time to see how they respond."
See the Jets coaching staff on the field during the 2022 Senior Bowl in Mobile.