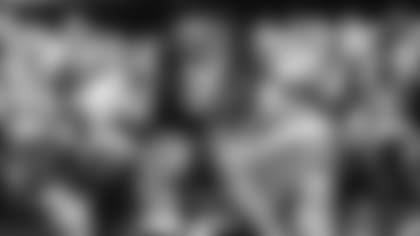 After experiencing a career breakthrough with the Jets in 2021-22, Quincy Williams wanted to remain with his football family and his younger brother, Jets 2022 Team MVP Quinnen Williams.
"I had three factors," Williams said when asked about what played a role in his return. "But most important was my brother. I enjoyed playing with him. It was really a lot of fun. We had a lot of conversations. Now, when wea are at home, we have a lot to talk about with family and stuff like that. So just having those memories together."
Williams was a big part of the defense that made the jump from 32nd in yards allowed to 4th in 2022.
"Last year was more like a restart for us," Williams said. "So last offseason when we got a lot of guys and made a lot of moves during the season and stuff, it was a whole different defense. I loved that. It was just something that we just started though, so I wanted to come back to see that through. That was the biggest thing."
Last season, Williams totaled 106 tackles, 3 sacks and 12 TFL. Having posted consecutive 100-tackle season for the first time in his career, Williams is also one of 22 players with 100+ tackles in each of the last two seasons. He credits that success to the rest of the linebacker group, and position coach Mike Rutenberg.
"I came into the league with a lot of athletic ability, but I wasn't a student of the game and I was moving to a new position," Williams said. "Coach Rudy was my first coach coming in, and he was just really patient with me. I just credit it to the hard work of those guys putting into me and then me just listening and taking what they said. But I promise, they're the ones that made me who I am basically."
Williams and C.J. Mosley became one of eight LB pairs to each record 100+ tackles, the only duo with back-to-back 100+ tackle seasons, and one of 23 linebacker pairings to achieve that feat since 2000.
"That you can always take your game to the next level, really," Williams said about what Mosley instilled in him. "That's the biggest thing we talked about all the time. Plus, Kwon always just saying, let's just go be legendary."
Williams, a third-round pick of Jacksonville in 2019 out of Murray State, has found in his comfort zone and he's working on an advanced degree in New York.
"Sky's the limit, really," Williams said. "I feel like in my second year here, with the same coach, staff, same team, same scheme, it really let me take it off. Now it's my third year coming in. So now it's not learning the playbook, not learning to players, now it's what we call Football 501. We're working on where can I steal a nugget here or where can I steal a play here. Just taking my football IQ to another level."