The Jets started preseason play Thursday as three of their four signal callers saw work in the team's 17-13 victory over the Jacksonville Jaguars. Ryan Fitzpatrick, Geno Smith and Bryce Petty combined to complete 18 of 32 passes for 244 yards with 1 TD and no turnovers. Rookie second-round pick Christian Hackenberg watched from the sideline and will wait to make his pro debut.
Ryan FitzpatrickThe Skinny:In just two series with the first unit, Fitzpatrick completed three of his four passes for 75 yards and the veteran led one scoring drive. Fitzpatrick, who hit Quincy Enunwa twice for 69 yards, departed after Bilal Powell's 4-yard TD in the second stanza.
"I thought we did OK. We didn't have a ton of plays, so, I wish we would've got something more," Fitzpatrick said. "We had a great return on the first drive or series — I wish we would've done a little bit more with that one. We tried to go a little up-tempo almost just to practice a two-minute situation in that second drive and got a couple of big plays out of Quincy and we were able to get it in there."
"He played OK. They didn't give us too much hard stuff to play with in the first half," added head coach Todd Bowles. "We tried to do a two-minute on the second series of the game and Quincy was open both times, so we got down the field pretty quickly. He was efficient. He was fine."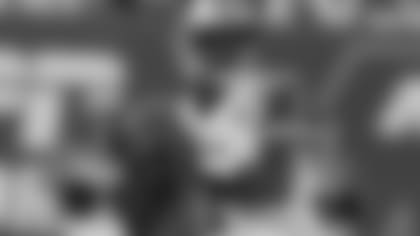 Geno SmithThe Skinny:Taking over for Fitzpatrick in the second quarter, Smith appeared in four series and led the offense to 10 points. Smith, who completed 8 of 14 for 79 yards, converted Jalin Marshall's 84-yard kickoff return into points when he connected with rookie WR Charone Peake on the go-ahead 17-yard score.
*Bryce PettyThe Skinny: *With a year under his belt in Chan Gailey's system, Bryce Petty felt a world of difference. Although he was sacked twice, Petty appeared sturdy in the pocket while completing 7 of his 14 passes for 50 yards.
"(I) felt so much more comfortable than last year, which is exactly what I wanted. Coming into this game, I wanted to execute and I felt like I did that," he said. "The first two drives, we came out hitting, thought we did really well and moved the ball right down the field. We kind of tailed off there toward the end. But overall, I felt really comfortable with what was going on. Every play call I just knew what was going on and knew what was expected of me, so I just felt good about everything."
"At this time last year, they were both a little more erratic," added Bowles on both the Jets' No. 2 & No. 3 passes. "This time, they showed poise. Again, it's only the first preseason game. They didn't see blitzes and a ton of coverages, but they showed poise and commanded the units while they were in there. That was good to see."
Christian HackenbergThe Skinny:Listed as No. 4 on the depth chart, Hackenberg has not taken a ton of team reps at practice. A three-year starter at Penn State who has all the physical tools, Hackenberg is adjusting to a lot and the Jets planned to get more time for Smith and Petty against the Jags.
"There wasn't enough time. We wanted to take a look at Geno and Bryce, and to play Hackenberg with minimal reps in practice would be doing him a disservice to play him with minimal reps in a game," said Bowles.
During his postgame news conference, Bowles was asked if he would wait until the Jets' final preseason game for Hackenberg to see action.
"It remains to be seen practice reps as far as schematically what we can do and still get a look at the other three guys and their reps," he said. "We're not going to take away from their reps and he's still learning. He has time. It's not like we're forced to play him right now."