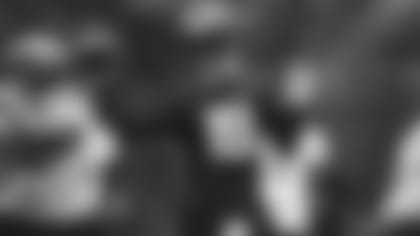 Sunday is bound to be hot for Joe Cool.
Jets head coach Robert Saleh on Wednesday announced that 15-year NFL veteran -- and former Baltimore Ravens quarterback -- Joe Flacco will start against his former team when the Green & White open the 2022 NFL regular season on Sunday at MetLife Stadium. Though second-year quarterback Zach Wilson had a light workout Monday after undergoing an arthroscopic procedure on his right knee, Saleh said that he was not yet ready to return -- and at the earliest would not be ready until the Week 4 game at Pittsburgh.
"He's not quite ready," Saleh said about Wilson. "And we're going with Cool Joe."
Flacco started five games for the Jets in 2020-21 and according to Jamison Hensley, ESPN's Ravens reporter, Flacco will become only the second quarterback in league history to play a season opener against a team he won a Super Bowl with. That was Super Bowl XLVII when Flacco was the MVP as the Ravens beat the 49ers, 34-31.
"You know, it's all good to say and talk about it until, all of a sudden, the lights get turned on," Flacco told team reporter Eric Allen and former Ravens and Jets linebacker Bart Scott on the new edition of "The Official Jets Podcast." "Your emotions get the best of you. As I said, football is a team sport. It's about the team. So, I'm going to make sure that I try to do as much as possible, as I said, I've been through it enough times to see how it goes. So, I think I'd be a little bit naive to think that it [emotions] can be zero."
Back in 2010 in the Jets' first regular-season game at MetLife Stadium, it was Flacco and the Ravens winning the game, 10-9. Overall, as a starter in the regular season Flacco owns a 98-78 record, 8-4 in season openers.
"There are some players that are still there," Flacco said. "But if you're talking about the bulk of my career, and the guys that I actually played with, in terms of that it's a completely new football team. It's just the same organization. So you know, sometimes we make too big of a deal out of these things and stuff like that. Guys switch teams all the time. You know, I think I'm a quarterback so obviously it's a little bit different for whatever reason. And Coach [John] Harbaugh is still there, but a lot of the coaching staff is probably pretty similar."
Flacco, 37, last played with the Ravens in the 2018 season before spending a season with the Denver Broncos before joining the Jets in 2020, leaving for Philadelphia for part of the 2021 season, then taking a trip back up the New Jersey Turnpike in a trade with the Eagles late last October.
"In this situation, I actually do really look forward to it," Flacco said. "I feel like I'd like the situation of being that guy. I hope that people will look at me and say 'O.K., and Joe's in the huddle and we're good.' And that allows them to move on to the next play. Ultimately, in a football game there's going to be things that happen, and you have to have something to ground you. So I hope that I can be that guy, obviously there's time to push those guys and get them in order to get the best out of them because they're going to be going through things mentally that may slow them down because they're thinking too much. And you have to be able to push them through those things."
Flacco finds himself behind an offensive line that is still getting acclimated to playing together while, at the skill positions, rookies like WR Garrett Wilson and RB Breece Hall will be playing their first NFL game that counts in the standings. Flacco is aware that he's that old dude to some of his younger teammates,
"You know, it's my fifth year of being 27 years old, that's how I view myself!" Flacco said. "Every now and then I see that these young guys are looking at you a little differently. They're looking at you a little strange, like how long have you been around. That kind of wakes me up a little bit and reminds me how long it's been, a little salt and pepper, a little sparkle."
He added: "I still feel like I've been playing at a high level and that's ultimately what motivates me."
Flacco said that he senses some of his teammates' youthful optimism and belief that their contributions this season and in the future will put the Jets on an upward trajectory.
"It's exciting," he said. "We've talked about it a lot. It's obviously a topic of conversation with people. I feel like we're at the point where we can sense, hey, like, we're pretty good. I think the young guys, they're good. They feel like they're good. They said they haven't necessarily experienced the last couple years [with the Jets.]
"But I think we definitely have a lot of momentum behind us right now. But we still haven't done it on a Sunday consistently. So while we're getting there, all that confidence is kind of starting to take off a little bit. We've started turning a corner, which is going out there on Sunday. So, I'm hoping that we're dangerous because of it. Once you get that confidence without thinking about a lot, just go out there playing football. And that's when it really comes together."
Though he's a veteran -- Joe Cool -- it's likely to be emotional when Flacco looks across the line of scrimmage on Sunday. A new experience for an NFL quarterback who has seen it all.
As Saleh said: "Joe's a pro. He's been there, he's done that. He's been a Super Bowl MVP, a world champion. He's gotten the big contracts. He checks about all the boxes you can check."
See the best images from Wednesday's practice leading up to the 2022 season opener against the Baltimore Ravens.