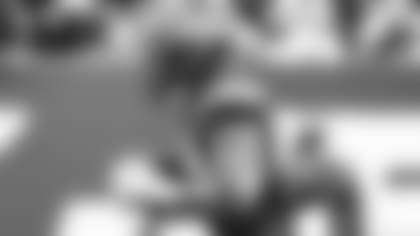 If Nick Bawden needed a quick occupational switch, he might fit right in with the Jets beat reporters who were doing the same thing he was doing during the first week of the NFL's free agency signing period last month.
"I was looking at Twitter every day for those first few days," Bawden told newyorkjets.com's Eric Allen last week. "I was getting fired up seeing texts from people. The Jets have been doing a great job this offseason. I can't wait to see where the draft takes us, and it's going to be nice having everybody back together again at OTAs."
Bawden wasn't slyly slipping in a reference to his own return to the Green & White, but he could have been. The fifth-year fullback, who was cut by Detroit in June and signed with the Jets' practice squad in late September, re-signed March 23 to stay with the offense and the program that he's gotten to appreciate.
"It's just about trying to find the right guys coming in that can project that next level, to where we want to take this organization," he said. "Coach Saleh and his staff have done an amazing job. I've felt nothing but warmth and energy here."
The Jets clearly had similar feelings. Bawden is the kind of player who many fans don't take note of — until he pops up on their radar screens with a big play.
Such was the case in his second Jets game, at MetLife against Miami with Joe Flacco at quarterback the game before Zach Wilson returned from his knee injury. On second-and-9, Bawden lined up in the left slot, put a wiggle on the Dolphins DB, ran a post, caught Flacco's 10-yard slingshot and turned it into a 20-yard completion. It was his career-long reception and the longest pass play involving a Jets fullback since Tommy Bohanon teamed with Ryan Fitzpatrick on a 23-yarder in 2015.
"I had fun catching the ball over the middle from Joe there," he recalled. "But I'm down for whatever Mike [LaFleur] has dialed up. I'm fired up to get going."
In fact, that was the only offensive touch the Jets offensive coordinator dialed up for his fullback all season. But Bawden still was in demand, in a COVID kind of way. He was a practice-squad elevation for the Buffalo and Miami games before he was signed to the active roster in late November. He wound up playing in the Jets' last nine games, totaling 57 offensive snaps and even getting a start against Tampa Bay. And his 166 special teams snaps were third-most on the team in that span behind only Del'Shawn Phillips and Justin Hardee.
It's Bawden's desire to handle whatever is thrown his way, plus his infectious team personality, that has him champing at the bit for the offseason strength and conditioning program and OTAs to begin.
"This market's incredible," the young bopper from San Diego said. "These fans deserve a winning franchise. I know everybody in this building is working toward that and I know there's no wavering on that at all. Everybody's just trying to be patient, waiting to get back."