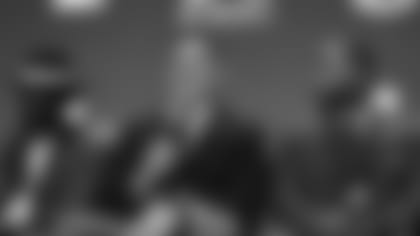 A week later, Kevin Mawae still hasn't quite regained equilibrium.
"I'm trying to catch up, trying to breathe, trying to come to grips with all this," he said late this week.
"All of this" of course was being selected as one of the members of the Pro Football Hall of Fame's Class of 2019 the day before Super Bowl LIII.
Mawae provided a timeline of what his life has been like since he got the proverbial "hard knock on the door" from Hall of Fame president David Baker.
Saturday night after the NFL Honors show, where he was introduced for the first time as a Hall of Famer, Mawae retired to his hotel room with his wife, Tracy, where he stayed up until 3 a.m. and then resumed the next morning responding to the 500-plus texts and emails of congratulations.
Sunday evening, he and his seven Class-mates were introduced to the Super Bowl crowd and the football nation at Mercedes-Benz Stadium in Atlanta.
Next came the "Measurement Monday" breakfast, where he and his fellow inductees broke bread, met with sponsors, learned about the schedule for the next six months until enshrinement ceremonies in Canton, OH, and, perhaps most important, were measured for their gold jackets, "rings of excellence" and busts that will reside in the Hall of Fame Gallery.
Tuesday, Mawae was back nearly across country to get up at 5:30 a.m. and return to his job as offensive analyst under head coach Herm Edwards at Arizona State. The pace didn't diminish, partly because "Coach Herm" and ASU are already conducting their "spring" practice schedule in the desert, and partly because his Sun Devils staffers had assembled their own celebration for old No. 68.
"They decorated my locker, my desk, my computer, everything," he said. "There were balloons, a big framed picture of me and Herm, and a cake from him and his wife, Lia. I knew Herm would be downstairs — he's always working out — so I went down and we had a moment, we hugged, I thanked him. And then it was back to work."
But not before Edwards presented Mawae with his special gold ASU/HOF T-Shirt at that morning's team meeting. "He told the players my Hall of Fame recognition was not just for what I did as a player but what I did for the game of football," he said. "That meant a lot to me."
Football's highest honor was a manifestation of how Mawae has always done things the right way. Even late in the week he was still returning calls and messages, still shedding a tear or two along the way at the thanks he felt for the honor bestowed on him.
He sent his quick-hitter "We're In!!!" texts to all the expected recipients, such as Edwards and Bill Parcells, who brought him to the Jets, plus his NFL offensive line coaches over the years and many others.
One coach he reached out to, he hadn't spoken with maybe more than once since leaving LSU for the pros. It was Joe Wessel, the special teams coach in 1990 who recruited Mawae to play for the Bayou Bengals.
"Joe said, 'Why would you be calling me?' I said, 'Coach, you believed in me, a skinny kid from Leesville [LA] who thought he could play at LSU," Mawae said. "He started crying, I started crying ... that was one of the special calls."
But there was one call Mawae didn't have to make and that was to the person he wanted to present him to the world on Aug. 3 in Canton. It was Tracy Mawae.
"If I got in, my daughter said she wanted to give the speech. My son said, 'Why are you giving it? I'm older.' I nipped that in the bud and said, 'Mom's gonna do it,' " Mawae said. "Tracy knows everything about me. She's been through this every step of the journey. She's a Hall of Fame mom, a Hall of Fame friend, a Hall of Fame wife. She needs to be honored as much as I do. There was no hesitation that Tracy was going to be the one."