In his first in-person meeting with Jets reporters, Christian Hackenberg came across similar to how he said he'd be when participating in his first practice as a Green & White quarterback a short while later: "mellow, kind of flatline, but I'm excited ... kind of a quiet excitement, I would say."
The former Penn State signalcaller stood tall at 6'4" in front of the reporters, smiled easily, swallowed his first-person pronouns a lot, and told Jets Nation he's ready to put the ups and downs of his three Nittany Lions seasons behind him and start a whole new learning process.
"I'm here right now and I think that's really what I'm focused on," Hackenberg said. "I've kind of buried that, so it's great, a fresh start. Really excited about moving forward and doing what I need to do here."
In the first practice of the Jets' rookie minicamp, the new No. 5 stepped under center and looked the part of a new pro QB learning on the job. He pulled the ball down several times against a good pass rush supplied by the likes of first-round LB Darron Lee and former CFL pass rusher Freddie Bishop. On other throws, he was off-line.
But then there were the throws that made him Big Ten Freshman of the Year and the Jets' second-round pick. There were muscular short- and mid-range completions, and then a deft long-ball touch. On one, he hit undrafted free agent WR Quenton Bundrage from Iowa State in stride for 45 yards. On another, he pulled the ball down, reloaded, then launched a 40-yard strike to first-year WR Titus Davis.
"You know he's got a strong arm," head coach Todd Bowles said after practice, "but right now it's all about learning, understanding the system, and getting himself acclimated."
As for those "ups and downs," Bowles said, "You see some mistakes. I don't know if you see bad habits. We can take every person in the draft and say they've got bad habits as well as ourselves. We saw enough that we're positive in what we got and we're willing to work with him and we're fine with that."
"I'm just going to work as hard as I can," Hackenberg said, "be the best teammate I can be, make plays when I have the opportunity to, and hopefully be trustworthy. I think that's the big word for teammates and coaches, to know what I'm doing and how to get things done. It starts this weekend, just getting through here and getting a strong base."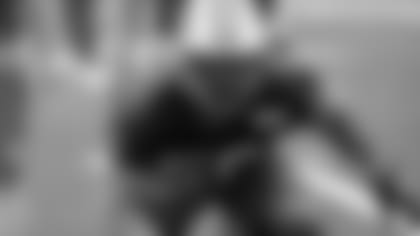 Undrafted FA wideout Jalin Marshall is among friends with the Jets. Marshall, who left Ohio State after his redshirt sophomore season, rejoins Devin Smith, who was his teammate before the Jets drafted Smith in Round 2 last year.
"Me and Devin are real close," Marshall said. "We became real, real close over the years at Ohio State. He was almost like a brother. We bonded and I'm glad to be here with him. He said just go to work and everything will be all right."
Then on the defensive side of the ball, Marshall saw No. 50, Lee, another college mate.
"D-Lee came in here today and we both have to make a statement for ourselves," he said, "and really just show we're here to play and help this team win."
Marshall doesn't lack for confidence. He said candidly about leaving school early even though he might've been OSU's No. 1 wideout next season, "I kind of fell out of love with it and I felt like I could try to be the guy somewhere else. Hopefully that can be here in New York."
Odell's Cousin in the House
Terron Beckham was another media draw in the locker room, being that he's the cousin of Giants WR Odell Beckham. Since Terron didn't play college football, a lot wasn't charted up about him. For the record, he's a 6'0", 225-pound running back who was originally signed to play at Stevenson University near Baltimore but never played there.
He said people are still skeptical about him getting this shot at the pros.
"I've had that all my life, through high school, through training," he said. "It's tough because I work so hard. I've worked that hard all my life. You can't just change people's minds. If they feel like, 'Oh, what you look like, what you do, you can't do that without substances' or whatever, it's crazy. They've done their tests and I'm cool."
As for the long odds he's facing of just trying to get a contract offer from the Jets, he said, "All I can say is I'm here now."
The Jets announced late Friday that they have waived T Sean Hickey. The Syracuse product, who started 38 straight games for the Orange from 2012-14, signed a reserve/future contract with the Green & White in January.