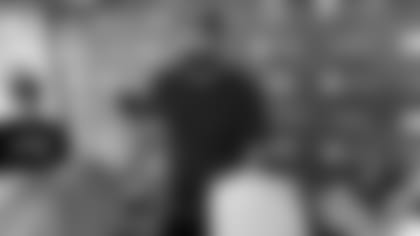 Toward the end of his first news conference with Jets reporters today, veteran center Ryan Kalil offered a mea culpa.
"I want to apologize to anybody publicly or behind closed doors that I criticized for retiring and then coming back," Kalil said. "I totally understand it now. I totally get it."
That's because Kalil, the friendly, bearded 34-year-old Southern Californian who played 12 seasons and started 145 games — plus eight more in the playoffs — all for the Panthers and was named a Pro Bowler five times and an All-Pro first-teamer twice, has unretired to be a Jet.
Kalil is not practicing yet. He said he's returned to weight at 297 and is back in "pretty good" physical shape but is going to need "a little bit of time" to regain his football shape.
But make no mistake. Kalil thinks he's got plenty of gas left in the tank and so does general manager Joe Douglas, who began talks with agent Tom Condon shortly before training camp opened about ending this retirement before it really began.
"My contract expired with Carolina and it felt like the right time to move on," Kalil said. "I was coming off a couple of injuries and felt like I was slowing down. I sort of forced myself to enjoy my time there, soak it all in, not take for granted how lucky I've been to be around so many great coaches and players, so grateful for my time there. So we had that season and I moved back to California with my family and started living the beach life a little bit."
It didn't take him long, after "feeling great and feeling spry again" following his 16-start 2018 season, to reach a new conclusion.
"As I started to train, I got the bug more and more, got the itch more and more," he said. "I just didn't feel like I was done yet."
"When Ryan comes up here and you see him, he's not going to look like a player who's retired," said Douglas about his first major signing as Jets GM. But more than Kalil's physical status at the moment, Douglas was thrilled with the aura that his new pivotman brings.
"When you talk about a guy we want in this organization, Ryan Kalil checks all those boxes — smart, tough, a highly decorated player," Douglas said. "As good as he is on the field, he's an even better teammate, father, husband, brother.
"We couldn't be more excited about this acquisition."
Another key to the addition is what it can mean for the Green & White offense and in particular for second-year QB and fellow Trojan Sam Darnold.
"We know each other a little bit," Kalil said, "so yeah, I just got excited for the opportunity to come and work with him. I think obviously given my experience, I've seen a lot of stuff."
"I wasn't here but I heard how beneficial a guy like Josh [McCown] was to Sam's development last year," Douglas said. "I really think that torch can be passed to Ryan this year as far as continuing that development."
Some naturally will wonder about that gridiron adage that "When you're thinking about retiring, you're retired." They'll question Kalil's age and those injuries that limited him to 14 games combined in 2016-17. The wily center's final statement of the news conference combined his aw-shucks nature with his supreme confidence that those concerns are not his concerns.
"I'm here to compete. I'm here to play hard. I've got some good football left in me," he said. "I hope I don't let you guys down."