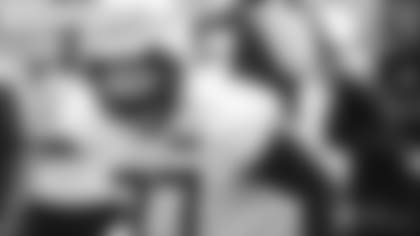 Thursday night's Jets-Browns contest in Canton, Ohio will be the first time in two years that Mekhi Becton takes the field for a game, and he could not be more ready to play.
"I'm really excited," Becton said. "I mean, I've been getting more comfortable with my stance and moving around. These past few days have been probably my best few days in a while. So, I'm feeling confident, feeling comfortable, and ready to go."
Becton, who had knee surgeries in consecutive years, last played in the Jets' 2021 season opener at Carolina. He underwent an arthroscopic surgery to repair his MCL in the hopes for a quick return, but he was shelved for the duration of his second campaign.
"I was trying to get the smallest surgery so I could come back and play that year," Becton said. "But my knee never healed correctly. So, I should have just went and got the six months surgery I end up getting last year."
Last summer, Becton returned to practice in August only to limp off the field with a fractured kneecap of his surgically repaired right knee.
Becton arrived at training camp weighing 350 pounds, which he said is his lowest weight since playing collegiately at Louisville. He changed up his training in the offseason and added swimming to his regimen. Head coach Robert Saleh has been encouraged by Becton's progress and Thursday will be another step.
"Yeah, we're definitely going to plan on playing him," Saleh said. "Pitch count, I think we're trying to get him in the 20 to 25 range with regards to snaps. I think he's excited about it. Again, this is about him getting comfortable with his knee. His talent is undeniable. His power is undeniable. His knowledge of the game is undeniable. He's gotten a lot better over the last couple of weeks, so very encouraged. For him, this is about getting comfortable with that knee and getting confident so he can just unleash everything that we know he's capable of."
While this is just one of four preseason games, Thursday's action will be significant for Becton.
"I'm definitely treating this as if it's a regular game like for sure — I don't even care if it's preseason or whenever," he said. "I'm definitely treating this like it's a regular game."
Intent on contributing in 2023, Becton says he'd be happy playing either LT or RT.
"It's definitely my goal to be a starter for week one," he said. "I'm just going to keep grinding and keep stacking days like I've been doing. That's just my whole mindset. Just keep getting better and get 1% better every day."
After close to two years of inactivity, Becton has attempted to block out the outside noise and remain focused on the present.
"I know who I am, I know what I do," he said. "No worries can define what I do. I know what I do out there on the green grass. So, it don't really matter what anybody has to say."
See top photos from Tuesday's practice at Atlantic Health Jets Training Center.