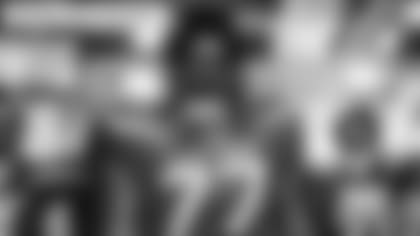 Mekhi Becton is moving up fast on the outside. And at 6-7, 355 pounds or so, that's a pretty scary proposition.
"The job's not finished yet," Becton said about getting the starting nod at right tackle for the Jets in their road trip to play the Giants at MetLife Stadium on Saturday night. "I've still got a lot of things I've got to work on. It's cool and all, but I still want to keep building and stacking on where I am right now."
Becton may be turning the corner from his long rehab following his two knee injuries that have kept him out of sight and out of mind of many Jets fans after his last action as the left tackle starter in the 2021 season opener at Carolina. After alternating from left side to right and running with the twos in recent practices, he logged 28 offensive snaps against the Buccaneers for the second straight game and had a number of highlight blocks to validate his push for a starting gig that he last held regularly as a first-round rookie in 2020.
"He did a really nice job in the game, he took over half the snaps," head coach Robert Saleh evaluated for reporters before Tuesday's practice in the waning days of 2023 training camp. "His cardio, he looks like he's in much better shape, obviously, so we'll give him a run at right tackle and see how he does."
Becton acknowledged again for anyone who missed it previously that these past two seasons took their toll on the big man from Louisville.
"It's been hard, a lot of rocky things going on in my life," he said. "The best thing to happen to me over these past two years is my son. He's the reason why I kept driving and pushing to where I'm at right now. I've never given up."
His short-term reward for that hard work is the right side of the line, which was not what he was interested in months ago but which he appears to be getting more comfortable with physically and mentally as the Green & White continue their relentless march toward the regular season.
"It's pretty much like playing a whole new position," Becton said of RT vs. LT. "It's not as easy as people think, switching from one side to another side, but once you get your landmarks, it's pretty much the same position. But starting out it's kind of hard."
"He and I had a couple of those conversations," Saleh said of the switch. "He's been good with it. He's on board, he's excited, he wants to play. I think he's in a really good place."
It's also a good place because Becton's still protecting the franchise's flank, just the open side, not the blind side. And working with Rodgers on the first offense and in meetings, count Mekhi in as another Jets "youngster" who's had his share of weird ARod moments.
"It's already surreal in the huddle. I've been starstruck the whole time," Becton said. "But I know what the job is and what I've got to do. ... It's cool, it's cool, him understanding the work I've ben through. It's kind of dope.:
"I like Mekhi," Rodgers said after Tuesday's practice, offering a not-unusual note because No. 8 seems to like everyone in green and white. "I think he's a guy like all of us. We all want to feel we belong, we're part of this thing, part of the group. Whether by his own doing or just the way things fell, he might not feel that way. When you're on IR — and I have been a couple of times — it's a tough place to be. There's been a conscious effort by all of us to make him feel like he's a part of things, he's talented, he's humongous. And he's a big teddy bear on the inside, so I've enjoyed getting to know him. But he's a fierce competitor."
And Becton has added the power of positive thinking to his repertoire as well as he tries to find the right path to happiness.
"I've had nothing but negativity my past two years," he said. "That was a big emphasis for me. Don't take it for granted pretty much. I haven't been out here for two years, so why not come out here and have fun?"
And Mekhi Becton having fun could mean more fun for Rodgers in his first start of the preseason, as well as a long night for the left side tackles and edge rushers in blue going up against him in a few nights.