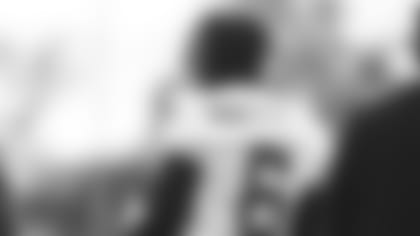 At his core, Mecole Hardman Jr. is, in the words of Kansas City HC Andy Reid, "a tough, tough kid."
But Hardman is also a smart, smart wideout, so he along with his new team, the Jets, aren't rushing him back from his February surgery to repair a core body injury that cost him all but one of the Chiefs' last 12 games in their Super Bowl season.
He's methodically following all the instructions from the team's strength, performance and medical teams to make sure he's ready to roll by opening night against the Bills.
"Actually, it's been going good," Hardman said. "I'm getting my body back to the things I'm used to doing — being fast, being quick-twitch and all those necessary things. And they're doing a good job here in the rehab process and the steps we're taking."
Meaning that Hardman, who's also a fast, fast receiver with 4.33 speed in the 40, has been working on the sidelines during the Jets' offseason program and OTA practices.
Jets fans can't wait to see that speed manifest itself. In his first four NFL seasons, for instance, Hardman has scored 18 touchdowns on 171 scrimmage touches. Of the 66 NFL wideouts with 150 touches since 2019, Hardman's 10.5% TDs/touch rate is ninth-best in the league. Coincidentally, Allen Lazard, another new Jets vet, is fifth on that list with an 11.3% rate. Once they get to team up with Aaron Rodgers and the rest of the Jets offense, there is the promise of a jump in touchdowns.
Until then, Hardman bides his time, does his rehab and observes the team around him, such as everyone in the Jets' WR room.
"Everybody wants to learn," he said. "Coming in with Garrett [Wilson], coming off the year he had and knowing he can get better, I'm just teaching him things that I've learned from the guys I played with in the past, just trying to elevate his game. Then Allen comes in, you've got guys like Corey Davis ... you can keep going and name them and I think all those guys are willing to learn, willing to get better, they can take criticism and they're all playmakers. So just being a part of that group is a special thing."
As for Rodgers, Hardman preaches patience, patience.
"I really haven't got a chance to be out there with him yet," he said. "But seeing the respect he demands, as a player and a person, it's just a thing to see. And being with a Hall of Fame quarterback like that and how he quizzes you and tests your knowledge, it's good to be around that."
Hardman knows the time for him and Rodgers to play catch and build chemistry is coming. He loves the Jets vibe and how his teammates have embraced him. And he's eager but not reckless about achieving his training camp goals.
"Being 100 percent healthy so I can go out there and begin practicing with my teammates," he said. "Just get the playbook down, make sure I'm studying every day, so when I do get on the field, there are no missteps, no hiccups, and I can jump right in with the guys like I didn't miss a beat.
"I just can't wait to get healthy, get out there and try to make some plays."
To which Jets fans everywhere say, "Hear, hear."