When he walked into the locker room this morning and saw a #43 green practice jersey hanging from his locker, Dexter McDougle knew the long road back was finally over.
The third-round draft pick shed his red no-contact jersey for that of the familiar green of his defensive teammates – marking the first full-participation practice of his professional career and his most extensive football work since injuring his shoulder in the third game of his senior season at Maryland that required season-ending surgery last September.
"I finally got out there, get into it with the team and start running around and flying around, trying to make plays out there," said McDougle, who was told late last week by the team trainers that there was a possibility he could participate in full this week.
It wasn't official, though, until he saw the green jersey this morning and shared in the excitement with his teammates prior to practice.
"I was just really happy…and all the guys were like, 'He's outta the red! He's outta the red!"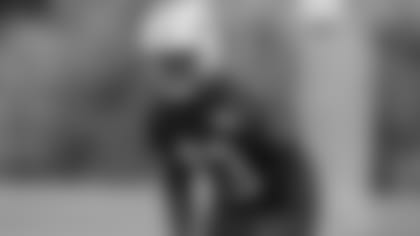 McDougle said he wasn't tentative in his first unlimited practice, though he admitted he made several mistakes that he's eager to clear up upon watching film. The cornerback has spent the past month studying techniques and taking mental reps from the sideline during team drills before being thrown "in the fire today."
Head coach Rex Ryan was impressed with McDougle's effort, even calling out his performance in front of the whole team at the conclusion of practice.
"Here's a kid that's been learning those 80 plays on defense yet really hasn't been able to go through anything," Ryan said. "He's done the tough part and he's got to sit there and pay attention knowing he can't get on that field. And then to take it out there today, I know he was excited to finally get that green jersey on."