More than two months out from the start of the NFL's free agency/trading period, the Jets have set themselves up with plenty of financial flexibility to add pieces. OverTheCap.com estimates New York's AFC representative will have approximately $80 million of cap space while multiple reports indicate the team could have approximately $100 million in room. As his "regular season" nears, Jets GM Mike Maccagnan is prepared to make additions to make his roster more competitive before the NFL Draft in April.
"I would say we have a lot of cap space," he told reporters Tuesday. "We do have some players that are currently free agents that we'd like to re-sign and we'll work through that process in time. I think we are going to be very active in free agency, but again, we haven't made our final decisions on allocating our resources. But I do think we have a lot of potential to improve this team going forward."
Sticking to his vision of building through the draft, Maccagnan is not looking for a quick fix. He wants to build a long-term winner by continuing to develop players in-house and targeting key complements along the way.
"We're going to try to build this not just necessarily to be successful next year, but to be successful next year and the year after," he said. "I think if you look where we're at in terms of the cap, and not to get too far ahead of ourselves, but this year coming up and the following year, we have the ability to build this in terms of improving this team to where we want it to be. But I don't think necessarily that you take an approach where you just mortgage the future and try to do everything in one year."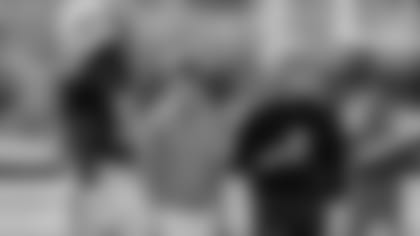 The Jets have quarterback questions that will be answered in the months ahead. Team MVP Josh McCown has an expiring contract, Bryce Petty started the club's final three games and Christian Hackenberg saw his only game action in the summer. When asked about his philosophy in terms of possibly finding a quarterback in free agency or drafting one, Maccagnan said he is open to all options.
"I don't want to sit here and tell the rest of the NFL what we're going to do, but I think we'll see how the pro free agency market shakes up. Right now, there's obviously some potential players that are going to be in that market," he said. "If we think there's a way to improve the talent on this team through pro free agency and/or through the college Draft, we wouldn't rule anything out, quite frankly. I think all options are going to be on the table, and I think we're going to go through that process and not only vet that but see how the market bears in terms of how we can improve this team."
Maccagan, who was quick to point out the Jets only won five games in 2017, feels the organization is taking strides. His drafting of DL Leonard Williams, ILB Darron Lee, OLB Jordan Jenkins and the safety pair of Jamal Adams and Marcus Maye have given the Jets a solid foundation on defense. He also improved the wide receiver position with the signing of undrafted free agent Robby Anderson and the September trade for Jermaine Kearse. In addition, the Green & White own three of the top 49 selections in April's Draft.
"Sometimes if you really want to build through the draft, it takes time. It's one of those things, yes maybe you can hit on certain players and may accelerate that, and that's our goal like everybody else's," he said. "But hey there's a lot of players you'd like to draft that get drafted right before you and you're like, 'Oh shoot.' You try to go get them and can't get them, but that's just a process you go through. Would I want us to be at the end of this process? I think everybody would, but I do feel good about where we're headed and I do feel good about this offseason going into it."
NotesPleased with McCown's play in 2017, Maccagnan*discussed the potential of re-signing the veteran. "*We'll kind of work through that process, but based on what Josh has done I would have no problem bringing him back," he said. "But of course that is another thing that is going to play itself out here over time. He is a free agent, he obviously has to make the determination from his end with his family (on) what he wants to do, but everything from our standpoint has been exceptionally positive with Josh."… While Hackenberg did not take a regular-season snap his first two pro seasons, Maccagnan stressed that he is still in the infancy of his career. "Christian is only 22-years-old. I don't think his final chapter has been written yet, and again, we're excited to see what he does this offseason with our other players and then we'll see how he does when he goes forward." … Veteran DL Muhammad Wilkerson was a healthy scratch the last three games of the 2017 season.  With the Jets still in review mode, Maccagnan chose not to address his future with the organization. "I'm not going to speculate on any particular player that's going to be on or off the team. Like I said before, literally Todd is meeting with the coaches right now and we're going to literally start our self-evaluation process again. You do it as you go but you also do it at the end of the season. Those things will work themselves out here before free agency."