Anthony Lynn has had more brushes with the Jets over the years than fans of the Green & White might have thought.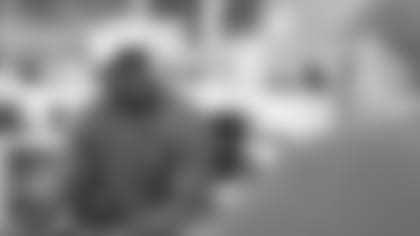 For instance, the former Broncos running back and special-teamer was in on the recovery of the wind-blown kickoff that helped spell the end of the Jets' hopes in the 23-10 AFC Championship Game loss at Denver a little more than 10 years ago.
"We probably shouldn't have won that game," Lynn, the Jets' new running backs coach, told newyorkjets.com today. "They blocked a punt and went up on us. Then in the second half, we came out and in about five minutes we score 16 points. We do nothing else before that and nothing else after that."
The Jason Elam kickoff that came eluded David Meggett and James Farrior like a Crocodile Dundee boomerang, he remembered, "was a strange play" that "kind of got us going."
Perhaps not so strange was Bill Parcells, the Jets head coach at that time, taking note of Lynn's toughness and team-oriented approach to the game, whether as an older player or a young coach. Lynn was an "assistant assistant" for the Broncs for three years before moving on to guide Jacksonville's backs for two seasons.
Then the native Texan joined Parcells' Dallas staff for 2005-06.
"I got to know how Bill did his business, liked how he did his business and his philosophy," Lynn recalled of being one of the grafts on the Big Tuna's coaching tree. "I've kind of been in involved in that for the last four years, so I do kind of consider myself to be along those lines."
When Parcells retired, Lynn moved on to work under one of his disciples, Romeo Crennel, with Cleveland. And when Crennel was replaced just last month by Eric Mangini — another Parcells disciple — as the Browns' boss, Lynn was able to interview with the Jets' new coach.
Rex Ryan is not technically a Parcells coaching descendant, but he lists Bill as one of his football mentors. And Lynn definitely feels at home in more ways than one in his new office at the Atlantic Health Training Center.
"I first met Rex on the opposite sideline," he said. "I always respected his defense with the Ravens. He's one of the better defensive minds in the game. He coaches defense the way we coach offense — he's always on the attack. So I've admired him for that."
Lynn has had success as he's worked his way through his three "House of Representatives" terms (two years each), coaching Fred Taylor to two of the top four single-season rushing performances in Jaguars history, blending the talents of Julius Jones and Marion Barber for the Cowboys and helping Jamal Lewis rush for 1,304 yards for the Browns in 2007.
He's looking forward to working with Thomas Jones and Leon Washington, who again will be the cornerstones of the Jets' rushing attack in '09.
"I do like the foundation," Lynn said. "I've spoken with those guys. They had a heck of a season last year. Both ended up in the Pro Bowl in their roles. Like I told them, I think we need to be the best tandem in the league because we have that talent and ability.
"These guys keep a defense off balance. Thomas is quicker than he is fast but he can go the distance. And Leon is just fast. So Thomas will pound you, pound you, then Leon will come in and hit a hole and take it to the house."
Florham Park is not far from Parcells' old neck of the woods in Bergen County, and Lynn, after some sticker shock, is settling into his new role as a Garden Stater.
"It's a good thing the Jets don't talk about the cost of living before you sign a contract or you'd negotiate a little harder," he said with a laugh. "But I love this area and the city, and I'm just glad as heck to be here."