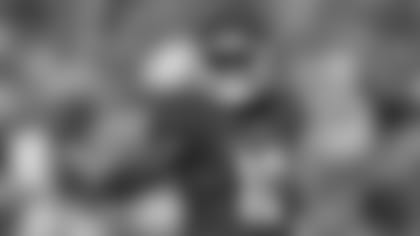 Blessuan Austin won't have to travel too far to take the next step in his football career. The Queens native found out Saturday that he'd be staying local and joining the New York Jets after being selected in the sixth round of the 2019 NFL Draft.
"I'm ecstatic, words can't even describe the feeling right now," Austin told Ethan Greenberg after being selected. "To go through what I went through and be able to be at this stage right now, I'm just thankful and humble and blessed."
The Rutgers cornerback had a tough ride on the injury train during his stretch with the Scarlet Knights. Over the past two seasons, Austin played in just five games after suffering a torn ACL in September 2017 and again in September 2018. But the 6'1", 198-pound corner stood out most during his sophomore season, totaling 43 tackles, an interception and 14 pass defenses.
The two lost seasons didn't dent Austin's confidence in his abilities though.
"I'm schematically flexible. My height and my weight, I'm very freakish in the way I change direction and the way I can move at my size," Austin said. "A lot of coaches, they see a guy my size and they don't expect to have the foot quickness that I have, they don't expect the patience that I have at the line of scrimmage. They don't expect me to play all-coverage that I do and be able to have my head fluid. Being that freakish at my size, I think it's my biggest strength… I think the Jets picked me because there's a lot of reward."
The Rutgers product isn't the only one confident that he has a lot left in the tank. Following the final Jets' pick of the 2019 Draft, which the Green & White acquired in a trade package with the Raiders that featured G Kelechi Osemele, general manager Mike Maccagnan was asked about the defensive back who posted a 4.65 time in the 40 at the Rutgers Pro Day.
"We think he has more speed potentially. Combining that with watching him on tape and seeing him a lot over the years down at Rutgers with our scouts, I think he has more speed in him," Maccagnan said Saturday. "He's not 100% recovered from his injury, so to have the speed he actually has at this point in time, we actually feel quite good about the fact that he'll be faster."
Now, he'll get the opportunity to learn and grow his game under defensive backs coach Dennard Wilson, and he is looking forward to the opportunity.
"He's one of those coaches that's not going to hide anything from you. If you feel like you're not fulfilling your potential, he's going to let you know and he's not going to hesitate," Austin said of Wilson. "You'll never get complacent with a coach like that because he always feels like there's room for improvement."