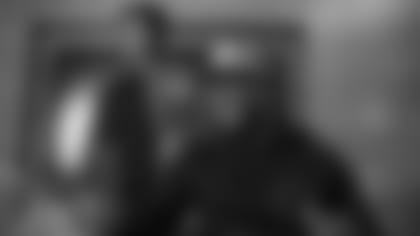 It had been a long day for Le'Veon Bell and his parents at the Atlantic Health Jets Training Center. There were coaches to meet, a visit to the training room, and the signing of his contract to join the Jets as one of the jewels of the NFL unrestricted free agency signing class.
Along the way there was word that the former Pittsburgh Steelers running back was getting hungry. For some Green & White victories and titles, of course, but more urgently for some food.
Yet Bell still stood strong in his black sweatsuit adorned with silver stars on the back as he worked through some end-of-day media commitments, which included a conference call with team reporters during which he left no doubt that the Jets were the new team all along that he wanted to join.
"Growing up, my whole family was literally Steelers fans," said Bell, who was raised in Ohio several hours west of the Steel City along Route 70. "I was the only one who grew up a Curtis Martin fan and I loved the New York Jets.
"When this season ended, I just liked how all the stars aligned. In my head, that's where I wanted to go, unless something forced me not to go. I'm glad we made this happen and everything worked out."
Naturally, Bell's decision was more than just about playing for his childhood NFL team, and it was more than the size of the contract he had just signed (terms of which were not disclosed by the team).
There was second-year quarterback Sam Darnold, for instance: "I've watched and heard about him last year. I know he has a lot of potential. He's a young guy and I'm just looking forward to coming in and being his sort of security blanket, a guy he can rely on and a guy I can rely on."
And the chance to contribute to new head coach Adam Gase's offense.
"I've played against him a couple of times. I think he had a running back who ran for 200 yards on us, who went crazy," Bell said, recalling Jay Ajayi's 204-yard game in the Dolphins' 30-15 win over the Steelers in 2016. "He obviously knows how to utilize running backs. I'm excited. I think the sky's the limit. ... I'm excited to play for Coach Gase."
Then there was safety Jamal Adams, who had been lobbying Bell on every platform he could find to come to the Jets. "I respect everything from a guy with that talent," he said. "Just to reach out to me, that meant everything in the world to me. ... He's definitely a huge part. He made it happen. I've got to give him a lot of credit."
Last but not least was the state of the entire team he was joining. Bell said after his year off, he's in the best offseason shape he can ever remember and he can't wait to try to lift his new team to new heights.
"There's a lot of talent on the offensive side. Obviously, guys are young, with a young quarterback. They brought over a good free agent in [Jamison] Crowder at wide receiver — he's going to make plays. I think they're getting better up front. And I've always been high on the Jets defense. They've always had good players and talent throughout my career.
"I made my decision and I'm happy with the decision I made," he said. "I woke up feeling amazing. I'm happy where I stand."