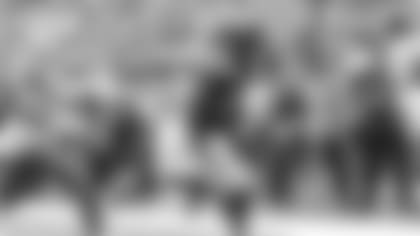 In his first NFL game since January 14, 2018, the divisional round of the playoffs, Le'Veon Bell made his return to the field one to remember. After the Jets defense came away with four takeaways and scored 8 points for the Green and White, the 6'1", 225-pound running back recorded the offense's lone touchdown—his first in over 600 days.
"It felt good to be back out here, I had a lot of fun playing the game," Bell said. "Obviously, it wasn't the outcome that I hoped for, but I felt good. I have to still get better and find ways to get better at my game so we can come out with a W."
Entering Sunday's 17-16 loss to the Bills, the Pro Bowl running back needed just four yards to be the fastest player in NFL history to reach 8,000 career scrimmage yards. And on his first carry, he ran for five. But at the end of the day, the sixth-year veteran wasn't satisfied with singular stats.
"It's definitely overshadowed by losing. It's a nice accolade I guess but it doesn't really matter," Bell said. "I'm just trying to get a win at the end of the day. All of those stats and everything feel good and I'm sure people feel happy for me, but right now I'm not happy for myself because we didn't get a win."
After his 9-yard touchdown reception in the third quarter, Bell was able to catch a lofted pass from Darnold to execute a two-point conversion. In his first Jets' performance, he rushed 17 times for 60 yards and had six receptions for 32 yards and the one TD. But Bell, who kept the Jets' late hopes alive with a powerful 1-yard carry on fourth down, was focused on his team afterwards.
"When you take a loss like this, it kind of defines you and we want to see how guys respond," Bell said. "To feel a loss, obviously it doesn't feel good, so guys want to come in and they want to work and get better."
Although the Jets started the regular season with a loss, head coach Adam Gase and his team can find comfort in knowing that Bell is back, and he already hit the ground running.  
"I feel like we have a young group and we're going to get better. The sky is the limit," Bell said. "We didn't start the season the way we obviously wanted to but it happens, it's football. Any team can go out here and win a game, so we have to make sure that we detail our things up. We have to get better for next week because we definitely don't want to start 0-2."