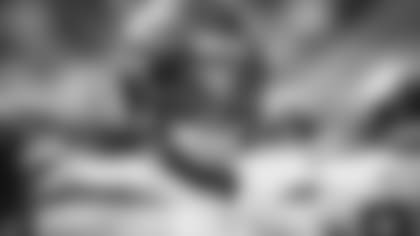 Le'Veon Bell knows what the Jets need to do in order to find success against the Redskins this Sunday. For the sixth-year veteran running back, it all starts with building off the positives from the team's Week 10 win over the Giants.
"We didn't turn the ball over, and us having no turnovers really gave us the opportunity to win," Bell said when asked what stood out to him about the Green & White's second victory. "I think prior in the games we lost, we always had self-inflicted wounds— penalties, turnovers. Especially when we had big plays down the field, we didn't really have the opportunity to continue the drive because it was always coming back. I think we can continue to build on that and have no turnovers and have our defense make plays — like Jamal made a great play last week — so we get points not only on offense. I think that's going to help us."
Prior to last Sunday, the offense had been victimized by 17 turnovers —tied for fifth-most in the league — with 12 interceptions and five fumbles through the first eight games of the season. Giving the ball away hasn't been the only challenge the offense has needed to overcome, though. The offensive line has taken multiple hits after injuries piled up, causing a constant rotation in players along the line.
"The more reps guys get with the same unit, you'll obviously move a little faster. But guys have been in and out because of injuries, but that's football," Bell said of the challenges of having a new offensive line combination nearly every week. "I don't necessarily look at it as something being too different or whatever it is. I think it should always be the next guy up mentality. When your number is called, you should be ready and prepared. As the season has been going along, we've been doing a little better with that. Early on, we weren't really there, but we're getting better and making the team better."
Despite the constant shift in the players up front, Bell is still ranked among the top-25 rushing leaders in the league, coming in at 20th overall. Through nine games, the Pro Bowl RB has recorded 143 rushes for 449 yards, averaging 3.1 yards per carry. Although not satisfied with the numbers, the 27-year-old is focused on the bigger picture. 
"Obviously you know (what) the stats have shown. Right now, I'm more focused on just trying to win games," said Bell, who was limited at practice this week due to illness and ribs and knee injuries. "The stats are what they are. I know what type of player I am and what I can bring to the table. We're finding ways to get everything going and run more offensive plays and not hurt ourselves. Then I think everything will start coming back."
The Jets now turn the page and look to make an impact in the run game as they head to Washington D.C. to take on a Redskins' defense that is currently ranked 28th in the league in rush yards allowed per game (136) and 16th in rush yards allowed per play (4.22).
"They've got some good players in the back end. Obviously, No. 20 (S Landon Collins) is their leader, he puts everybody in the right positions and makes a lot of plays for them. He's a very good player," said Bell, who has also pitched in with 44 receptions and 276 receiving yards. "Those guys play fast and physical up front. It's going to be a tough challenge for us. We have to be in on our details and make sure we don't hurt ourselves and I think we've got a good chance on this one."