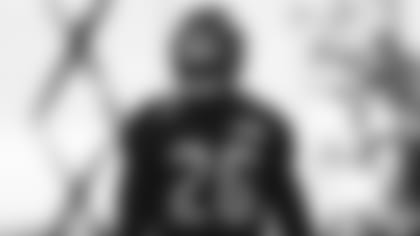 The Jets and Giants play every preseason, but every four years, bragging rights for New York supremacy are on the line.
"I felt it a little bit in the preseason. I know how important it is for the city of New York and things like that, so it's going to be a fun game," RB Le'Veon Bell said. "I'm glad we're at home, technically. We get to be in our locker room and things like that. It's going to be fun and I'm looking forward to it. I can't wait until Sunday."
While Sunday's game features a pair of young signal-callers, it also features a pair of No. 26s — Bell and Saquon Barkley — who are largely considered two of the elite backs in the NFL. While they wear the same number for their respective New York clubs, their running styles are very different. Bell is more of a slicer and dicer who carves up defenses like a surgeon whereas Barkley is a homerun threat on any down.
"Pick your poison," Bell said when asked which style he considered better. "You like a quarterback like a Lamar Jackson type or you want a Tom Brady type of quarterback? It all depends on the type of player you want. Both can be successful. It's two different styles and both are effective."
As far as Barkley, the 2018 NFL Offensive Rookie of the Year, Bell said, "He's one of the best runners in this league, one of the best in a long time. I got a chance to watch him play. Obviously he was hurt, but I had a chance to watch him against the Cowboys this past week. I know what he does and what he brings to the table, so it's going to be fun."
Earlier this week, there was a hold-your-breath moment with Bell, who underwent an MRI on his knee. The 6'1", 225-pounder said he tweaked his knee on a run against the Dolphins, finished the game, woke up Monday morning sore, and decided to make sure it was nothing. The three-time Pro Bowler was diagnosed with a mild sprain and participated in practice on a limited basis Wednesday, but is on track to play in the MetLife showdown.
"I felt as good as I possibly could for today," he said. "Hopefully tomorrow I feel better, Saturday even better and Sunday I'll feel great. Obviously we all lean towards Sunday, but I have to be smart about everything. I had a full practice today, I had a good load. I did a lot of conditioning to make up for my missed practice yesterday. It was a good practice."
Even though the Jets are 1-7, Bell is still looking for ways to get better every day whether in practice or a game. Winning trumps everything for the sixth-year pro regardless of how many touches he receives and in order to add to the win column, he believes the offense needs to eliminate penalties, specifically pre-snap although he's been encouraged by certain things the offense has done the last couple weeks.
"I'm still hopeful," he said. "It's not like we're eliminated right now, so I want to go out here and win games, try to get better as a player, as a person, help my guys around me and stay motivated because at the end of the day, it's still not over. You never know what can happen. Still play football and go out there and do what we can."