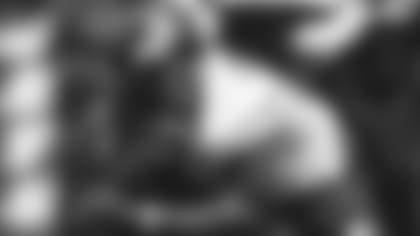 Laken Tomlinson is a people person. The Jets' free agent guard showed that with reporters after Tuesday's final OTA practice and before the start of this week's full-squad minicamp. After each reporter asked a question, before he answered, he asked the reporter: "What's your name again?"
Few other players are that into wanting to know which media member they're speaking with. And Tomlinson's response wasn't "What's your name?" but "What's your name again?" as if it were his fault for forgetting the name of a reporter that he might never have spoken to before signing on with the Green & White in March.
Then there was his reply when asked about whether he met Mekhi Becton, who presumably will be the left guard's next-door neighbor at left tackle when training camp and the regular season arrive.
"It was my first time physically meeting Mekhi, but we've been texting ever since I've been signed," Tomlinson said, quickly transitioning to a personal note. "He had a baby recently, congratulations to him, and mom's all good as well."
It might almost seem as if Tomlinson's too nice to fit in between Becton and C Connor McGovern and mix it up with the defensive linemen who will be trying to take down Zach Wilson and the Jets offense this season. But of course we know that's not true.
Tomlinson is real good, not just as a person but as a player. He is, after all, an eighth-year pro, coming off his first Pro Bowl season, with San Francisco last year.
Availability? He's missed only one game and only nine starts of his teams' 113 regular-season games. He's started 80 consecutive RS games since his last miss in 2017, plus six more playoff games with the 49ers. In his five SF seasons he averaged 1,000-plus offensive snaps/season.
Production? According to statspass.com, Tomlinson, not surprising since he's coming off his all-star season, registered career bests of 51.4% of "successful offensive plays" and one sack allowed. Two of his last three Niners offenses finished in the NFL's top seven in terms of both total yards/game and rush yards/game. Two of his last three Niners teams finished with 10 wins and went at least to the NFL Championship Game.
But Tomlinson didn't broach any of those individual numbers and honors. It was more about, don't you know, teammates and team.
On Becton: "He's a physical specimen. I just remember looking up and I was like, 'Man, this kid is, this kid is, this kid is huge. So it was great meeting him, hearing a little bit more about him personally, but he's a hell of a kid."
On Alijah Vera-Tucker, his new guard mate: "He's one of the guys that jumped out to me from the get-go, when it comes to paying attention to detail and applying the playbook with his techniques and his physical characteristics. An awesome guy, man. It's awesome to watch him play and learn every day, and I'm super-excited for him this year."
And when Tomlinson was asked how good the Jets' O-line can be this year, he offered a small, friendly laugh, as if to say here' s something funny but also true, when asked how good his new unit can be in 2022.
"I think it can be one of the best," he said. "Just look around at all the guys that we got. I feel like we can be one of the best offensive lines in the league."