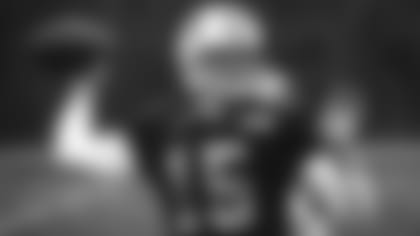 Josh McCown took his place against the backdrop of the side of a locker in the middle of the Jets dressing room today looking every bit the cool, calm and collected NFL quarterback that he's been for 15 seasons.
And that's one important part of the reason McCown remains a Jet — to provide a sense of proficiency and professionalism in the event of an emergency, whether or big or small.
Kind of like the emergency that came up with rookie QB Sam Darnold's foot strain, which landed him in a walking boot and on the sidelines for today's practice at the Atlantic Health Training Center.
"A foot strain is just sore, and you can imagine every movement that a professional athlete has to do ... you'd rather have two healthy feet than not, that's the bottom line," McCown told reporters with his impeccable bedside manner. "But it's certainly manageable, and it's one you can manage day to day, so that's the course we'll take. And I'll be ready to go if called upon and Sam will do everything he can to get healthy and ready to go."
Head coach Todd Bowles is still a long way from saying Darnold will sit out, McCown will start, and practice squad QB Davis Webb will back up against the Buffao Bills at MetLife Stadium on Sunday.
"I didn't hear about it until Monday. He was fine on the plane," Bowles said. "It's a foot strain, and they've got him listed day-to-day. ... Anytime you get an injury from a starter, it's a blow to the team, but Josh has been practicing and being the same guy every day. If he has to play, we're confident he can go in and play."
That's exactly the way McCown sees it. He's performed every kind of role in his NFL career and he's prepared as possible for this one, however the script reads. If Darnold has to sit out the Bills, he said, "you're torn because you're feeling for your teammate. It means he couldn't go, and I don't wish that on anybody.
"On the other hand, as a professional backup quarterback, you're serving your team in that role and you have to go out and play winning football. That's what's fun, that's what you look forward to when you go out and compete."
McCown said until today's practice he wasn't getting many if any first-team reps once Darnold was named starter and the regular season began. Yet he came off a 2016 season where he didn't play a lot for the Browns and moved on to his eighth different NFL employer — and started 13 games for the Jets, putting up career numbers in completions (267), attempts (397), accuracy (67.3%), touchdown passes (18) and passer rating (94.5).
There's still time for John Mellody and his training staff to work wonders on Darnold's aching foot. But if it doesn't come around and Josh gets the nod from the coach, well, rust is not an option.
"For me, that's not the plan. That's part of being a professional football player, is the expectations to go out and play at a high level," McCown said. "So that can't be allowed to be an excuse and I'll go out and expect to play to my standard and to the standard of this football team."
Best Images of the Jets During the Debut of the Salute to Service Camouflage Jerseys