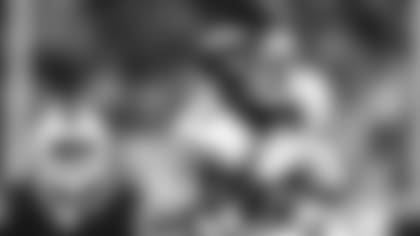 So many Jets players and units stood tall in the last three quarters plus overtime of the Jets' 22-16 Monday night comeback triumph over Buffalo.
"I was just watching tape from last year," Whitehead said, comparing his primetime eruption of three interceptions of Josh Allen to last year's midseason win over the Bills at MetLife Stadium, when he intercepted Allen once. "He threw me a second interception late in that game and I dropped it. My whole thing this offseason was doing extra ball drills. I couldn't have had a better start to this season."
Whitehead was one of many stars in the defensive effort that held the Bills to three points in their six series of the second half and OT and took the ball away from Josh Allen & Co. four times in all. But in some ways he came the farthest to get to his star status in primetime. Last season a number of reporters and fans thought the Whitehead unrestricted free agency signing was an underwhelming addition.
But head coach Robert Saleh always politely disagreed and smiled like the Cheshire cat when one writer mentioned that the media had once harped on the safety's hands, or seeming lack thereof.
"He was outstanding. He's been outstanding," Saleh said. "He was four dropped interceptions away from having an All-Pro year last year. He caught 'em all today, he's got great instincts in the box, and his range is better this year, his ability to get from red line to red line. We have great confidence in him. He's an outstanding safety and he has been."
Whitehead didn't take any payback swings himself, but he didn't have to for his pass coverage efforts. For one thing, the Jets offense under Zach Wilson's direction converted two of his aerial takeaways into 10 points that they needed badly to claw their way back into the game after a first half that started with Aaron Rodgers' Achilles injury and ended with the Bills in command, 13-3.
Then there's the way that Whitehead's big performance placed him among some of the great DB names in Jets franchise history. For instance, the last Jet to turn in a 3-INT game was Hall of Fame-CB-to-be Ty Law, who had a hat trick in the 2005 season finale. Against Buffalo, don't you know.
As for the last safety with the good-hands trifecta, that was Erik McMillan, who exploded onto the Jets scene as a third-round rookie in 1988 by exploiting Dan Marino and the Dolphins for three thefts in the win at Miami.
And let's not overlook that Whitehead, who had no more than two INTs in a season in his first five years in the NFL, had his three Monday in the span of about 33 minutes of time off the gameclock.
"For me it was just about getting the defense down 100 percent," Whitehead said of his regimen for the 2023 season. "Once I learned that and I learned where I was supposed to be in the defense, I knew the plays would come to me. Really, all camp it was just ball drills, deep balls, breaking on the ball and catching it. I had the ball in my hands last year, but that's the difference between a good player and a great player."
But now perhaps Whitehead will get more praise for being not just a great safety but a great contributor to the team that the Jets are going to have to be able to realize all the goals they had set for themselves before QB Aaron Rodgers suffered his Achilles injury on his first drive against the Bills.
"Just going off last year, we had a good defense. We just had to take this next step," he said. "We talked about it at camp, about taking that next step. We've got great leaders on defense, great leaders in the D-line room, C.J. [Mosley] as the captain that runs the show. When you've got guys like that, it's easy for us."