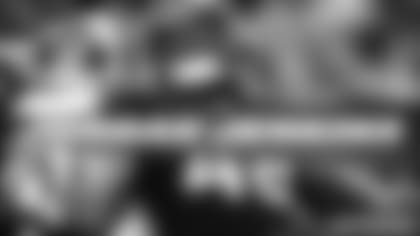 The Jets have re-signed OLB Jordan Jenkins.
Jenkins, who led the club in sacks in both 2018 and '19, had career-highs with 8 sacks and 9 tackles for loss this past season. He also tallied 32 tackles and 13 QB hits. The 2016 third-round pick has totaled 152 tackles, 22 TFL, 20.5 sacks, 40 QBH and 6 forced fumbles in 60 games.
"Jordan has these subtle, little pass-rush moves that guys sometimes don't understand that he's really effective with," Coach Adam Gase said. "He gets his hands on you and then he throws you. He's a very strong player. … The sack is never good enough for him. He's always trying to get the ball out."
Jenkins, who's missed four games in as many years, told Newyorkjets.com's Olivia Landis he entered the 2019 campaign with a different mindset, which helped him affect the quarterback more often. Jenkins' sack total has increased each year since entering the league — 2.5 in '16, 3.0 in '17, 7.0 in '18 and 8.0 in '19.
"After seeing the success I had [in 2018], I finished with 7 sacks and was a little more effective against the pass than I had been in past years, I was like, 'Do I want to settle or do I want to strive to get a repeat performance and build on top of it?,' " Jenkins said. "I came to the realization that I figured I'd put in the work."