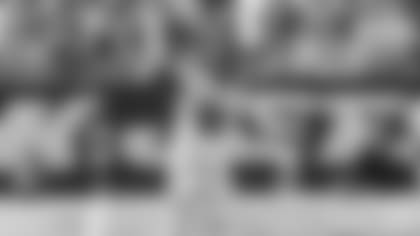 John Franklin-Myers is in only his fourth NFL season and he's already well acquainted with the ups and downs of pro ball. That's why he counts his blessings now that he's a starter and valuable contributor on the Jets' defensive line this season.
"It's a great opportunity and I don't take it for granted," JFM told Eric Allen and Leger Douzable on this week's The Official Jets Podcast. "I understand these opportunities aren't promised, so each and every day I come to work to get better and see how I can help my teammates. There's no hard feelings regardless of who's out there, who's playing. I'm going to help my team get better and help us win games."
This year Franklin-Myers is doing it from a front-row position on the premier Green & White defensive unit, the D-line. The left end already has three starts this year, more than he did in his previous 31 games over his first three seasons with the Rams and Jets.
And, oh yeah, his two sacks lead the Jets defense — although suddenly the sack battle is joined after Quinnen Williams got his first 1.5 takedowns of the season at Denver.
"We knew if Carl was here, he was going to get 100 sacks," Franklin-Myers said of Carl Lawson, lost for the season with a training camp Achilles injury. "Now Carl's not here so me, Sheldon [Rankins], Q, we're all talking about 'I'm getting the most sacks.' I tell 'em, hey, it's going to be me, it is, it has to be."
Whoever ends up with the sack mantle, Franklin-Myers said Carl Lawson will still have a hand in it, since the former Cincinnati edge rusher continues to sit in on the DL meetings as each opponent comes up on the schedule.
"Carl does a great job with showing up to the meetings and putting us in great positions as far as Bryce [Huff], me, Shaq Lawson and then Tim [Ward] also as D-ends," JFM said. "He does a good job of preparing us for the week. He breaks down the offensive line for us, he tells us what he used against these guys."
C.Lawson's contributions point to one of the great traits of the Jets' D-line, even without him on the field this year: the group's togetherness.
"These guys are great football players and we all just feed off the energy," he said. "One person makes a play and we all feel like we made that play. So just getting the opportunity to play with these guys, I think anybody could be hyped about that."
To the guys in the room, Franklin-Myers adds two more factors to the D-line's prominence: the feeling that Robert Saleh's and DC Jeff Ulbrich's 4-3 scheme is the "perfect system" for him, and the line's mindset that "If they don't score, they don't win." One measure of that is the Jets' rise in the NFL rankings to a first-place tie for red zone defense with opponents scoring TDs at a 33.3% pace and to second behind only New Orleans in goal-to-go defense at 42.9%.
"Obviously, some of the short-field positions and turnovers on downs, that's part of football," he said. "We all understand what comes with having a young quarterback, a guy who's going to play some great football and his best times are ahead of him. So we embrace that, and this is a great opportunity for us to show what kind of defense we are and what kind of men we are. It's a great opportunity for us to continue to get better."