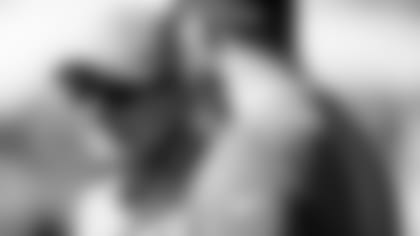 Sam Darnold recently spoke about his feelings of not being "super comfortable" at first as the Jets' top draft pick last season.
Joe Namath, the patron saint of all Jets quarterbacks and all Super Bowl underdogs everywhere, knew exactly what Darnold meant.
"Sam was looking good to me last year," said Namath, visiting the Jets along with other Green & White Legends this past weekend on into this week's practices. "He does feel better, he does feel comfortable. Last year, the first year, when you're fresh, there's a lot running through your mind. As focused as you want to be on what you're doing out there, there's a lot of things that come into play in your life, as Nick Saban would say, distractions. You've got to learn to handle some of those things.
"I liked what I saw of him when he was at Southern Cal before he got here, and when he got here, I liked what the coaches and players had to say about him. When I met him, I liked his demeanor. We didn't go out to dinner or anything like that, but the few times I've been in his presence and talking with him, he gives you a good vibe and a good feeling. He's respectfully humble.
"He can play as well as anybody. He just needs to keep polishing himself and the team needs to polish up."
The team polishing, of course, is also head coach Adam Gase's job. And Namath, being not just a Jets ambassador but a man of the NFL world, met Gase not only at this year's camp but last year when he was invited to Hard Rock Stadium for the Jets-Dolphins game when Gase was Miami's coach.
"I live in Southeast Florida, and watching the transition he made with the Dolphins for those years was encouraging," Namath said. "I liked his style and I'm excited for Sam and the offense to have him as a man who knows offensive football. And if you know offensive football, you damn sure better know defense. and he does.
Gase, Namath added later, "having been around some people, including Peyton Manning, for example, but being around some people in the offensive game, I think he's brilliant, and it's just a matter of these guys being able to put it together."
As for what it all means for the Jets in 2019, the man of the Miami Touchdown Club Guarantee was offering no assurances. "I hope we can win a championship but I don't know if that kind of talent is here right now. It remains to be seen."
But Broadway Joe remains bullish on Darnold, again reminded that he needs all the Jets to come along with him.
"It's a team game now," Namath said. "Sam's got to have help on both sides of the ball. ... He can play."